Strong performance for sevens in Tokyo : Kenya rugby team make first Main Cup quarters in Japan IRB leg
RUGBY By -BS MULAVI | March 23rd 2014 | 3 min read
By BS MULAVI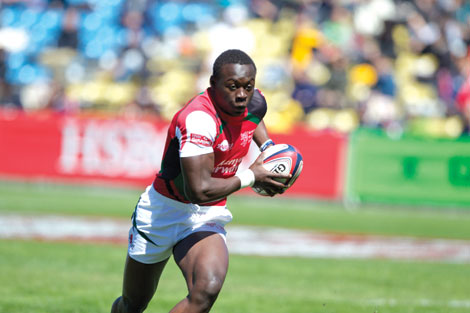 Billy Odhiambo scores a try as Kenya contended with South Africa in their Tokyo Sevens IRB series in Japan, yesterday. [PHOTO: IRB
The Kenya National Sevens team ended their string of poor performances in the Japan leg of the International Rugby Board Sevens circuit with a solid performance in Tokyo.
The side qualified for the tournament's Main Cup quarterfinal for the first time since the Japan leg was added to the circuit in 2012, with two vital victories over Japan 12-7 and Argentina 24-7 in a difficult Pool B yesterday.
Even though Kenya lost its first match of the day, against South Africa with a 26-12 margin, Kenya looked like a different side to the one that has been faltering in the past two legs under new coach Paul Treu.
The side displayed urgency in their playing and did not shy away from making their tackles in all three games of the day.
Not only will Treu be proud of how the boys played but he will be glad to be back to the Main Cup competition where they were scheduled to play Fiji in the quarter-finals today morning at 0450hrs.
Treu will be happy that the team looks like they have finally got some rhythm with captain Andrew Amonde leading the forwards, while Mwamba winger Collins Injera has got the sweeper position covered, which has given the team some stability at the back.
The one area that Treu will remain worried about is that Kenya did not enjoy the majority of possession for the South Africa and Japan game, and they will have to find a way how they can retain the ball for longer spells, otherwise they will be forced to defend for long spells.
Kenya is also yet to find a kicker who is completely accurate in making conversions; out of eight tries scored on the first day, Kenya was only able to convert four, which meant they lost almost eight easy points from relatively easy kicking positions.
Meanwhile, the defending Tokyo champions South Africa were one of three teams to maintain a 100 per cent record on day one, defeating Japan, Kenya and Argentina.
England came from 14-0 and 21-7 behind to record an impressive 24-21 win against Australia to top Pool D and end the day with a solid record having conceded no points in earlier defeats of Scotland and Spain.
Despite Australia's Greg Jeloudev scoring his fifth and sixth tries of the day in the Pool D decider having earlier completed a hat-trick against Scotland, Phil Burgess scored a brace to set up a quarter-final with Canada while Australia await the current Series leaders New Zealand.
The All Blacks Sevens ensured they ended day one with a hat-trick of wins as they narrowly beat Canada 22-17.
John Moonlight scored a hat-trick for the ever-improving Canadians but it was Bryce Heem who snatched a win after the buzzer had sounded.
Earlier, Tim Mikkelson scored a hat-trick as Gordon Tietjens' side won 43-5 against Wales before adding two more in their 40-7 defeat of Portugal and one against Canada.
Noisy fans silenced and return with coiled tails
Perhaps Top Fry versus Gor Mahia Kenyan Premier League match yesterday at Afraha stadium in Nakuru was the biggest match to have been staged at the venue since season the 2014 kicked off in mid-February.