Team for Las Vegas and NZ IRB series to be known today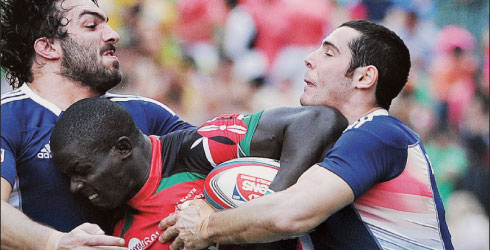 Andrew Amonde (centre) is tackled by France's Manoel Dall Igna (right) and Jean Baptiste Mazoue during the Hong Kong Rugby Sevens tournament on March 23, 2013. [PHOTO: AFP]
By PHILLIP ORWA
KENYA: Kenya Sevens rugby team will today announce the 12-man team for the coming HSBC IRB World Series rounds in USA and New Zealand.
The team will leave tomorrow for the US to honour the series after the recent intensive 10-day training camp that was held in South Africa that placed about 20 players fit and available to travel.
Paul Treu, the country's Performance Director and Kenya Sevens head coach, has the luxury of a wider range of fit and tested players after an invitational tournament in George last weekend where he gave a run out to players who had missed the past three rounds of the World Series in Gold Coast, Dubai and Nelson Mandela Bay.
And for the first time in a long while, the Kenya Sevens rugby team has the opportunity to select virtually any member of their large core squad for their next assignment.
"Rather than thinking too much about who will be in the team for Las Vegas (January 24-26) and Wellington (February 7-8), squad members are looking forward to a good performance by the team," said Kenya Rugby Union chairman Mwangi Muthee.
"It is not about who is in the team and who is out. We have the spirit of 'one for all and all for one (team)," he said.
"We have each others back. This is an enviable position to be in; as many squad members as possible available for selection," the Chairman added.
The management have made firm decisions on filling of the positions at which the team struggled in the last three rounds.
Muthee said the team was better prepared than usual and the mood among the Kenyan supporters was lively.
"They've had a solid training programme and the anticipation is for improved play, the team will be encouraged to know that one of the team's best supporters, President Uhuru Kenyatta, called on Sunday to candidly enquire about when they would be returning from South Africa, how the coach (Paul Treu) was fairing, whether everything was okay and when they'd be traveling to America, He said he would be following their every move in Las Vegas and Wellington," said the Rugby boss.
But, Muthee added: "I should let them know that the President upped the stakes by saying supporters were hungry for success; 'time to win a Cup is now', those were the President's specific words."