Rugby: Top-flight teams make good start
By BS MULAVI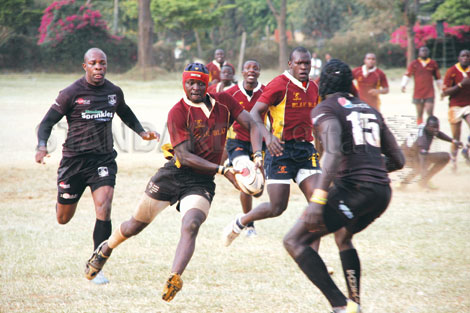 Blak Blad's Allan Limo (right) passes the ball as Mamba's Lavine Asego keeps it close at their Kenya Cup tie at Nairobi Railways Club, yesterday.[PHOTO: JENNIFER WACHIE/ STANDARD]
Mwamba RFC kicked off their Kenya Cup campaign with a confident 32-0 hammering of Kenyatta University's Blak Blad at the Railways Club on Saturday evening.
Speaking after the game Mwamba Coach Meli Wainibula heaped praised on his troops for gaining maximum points from their league fixture and claimed it sets good precedence as they kick off their campaign.
"We had a simple target of just winning the game," he said, "We did not want to get entangled with setting numerous targets like getting the bonus points, but now that we have received them we are equally happy," he added.
According to Meli, Mwamba have a set a target of winning a single game at a time, and it does not really matter by how high the score is as long as it is a win.
"We always advocate for the Mwamba style of play, which involves keeping the ball in hand and swinging it out wide, today we scored from that system of play and so I can say that it worked well for us and gives us a platform to work from," he said.
"We have seen many positives from our first game, but I think the biggest gain has been the fact that we have been able to register such a big win with a squad involving many new players, who we gave a chance to start for the side," he explained.
"We had seven debutants today and they played really well, which means we can still expect more from them as the season progresses."
Buoyed by their emphatic first win of the season, Mwamba are now looking forward to their next fixture against Kisumu RFC, which according to Meli, they will be aiming for nothing less than a win, while building on the successes so far achieved and improving on areas of weaknesses exposed against Blak Blad.
Despite winning 32-0 Mwamba would have had the opportunity to score even more had they retained the ball better and be patient in their build up and phase play.
The Black shirts on several occasions lost possession of the ball through knock-ons and turnovers mainly due to unnecessary rushing by the players and poor ball retention in the contact situation.
Meanwhile, in the other Kenya Cup fixtures of the days, Nondies turned round from a 15-5 deficit to Western Bulls at home to eventually register a bonus point 24-18 victory.
Collated results: Mwamba 32-0 Blak Blad, Nondies 24-18 Western Bulls, Nakuru 112-5 Mombasa, Strathmore 115-3 Eldoret, Kenya Harlequin 31-5 Mean Machine.