Ndovu coach Habimana to avoid past mistakes as they take on Rwenzori in Kampala
RUGBY By - | May 18th 2013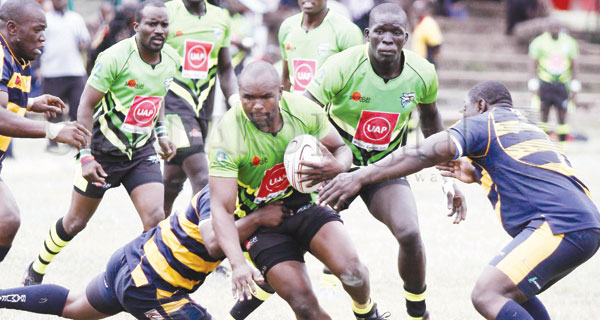 Nguvu Kengewa's Anthony Orege, (with ball) tackled by the Top Fry Ndovu players in their Bamburi super series 2013 match at the RFUEA grounds, last weekend. [PHOTO: MARTIN MUKANGU/STANDARD]
By BS MULAVI
Ndovu coach Dominique Habimana has claimed they have learnt from their mistakes of last weekend, where they drew 18-18 with Kengewa in the group stages of the Bamburi Rugby Super Series.
Ndovu are currently in Kampala for their last Pool B match against Rwenzori and they only need a point to qualify for the semifinals.
"We are heading to Kampala for the maximum points even though we know one point is enough to qualify," he said.
"If we simply win the game, then we will top the pool and in the event gain a home semi-final which will shift the advantage to our side," he explained.
Ndovu currently holds 7 points, while Rwenzori lead the group with nine and Kengewa trail them at third with two points. Should Ndovu lose without gaining a point and Kengewa register a massive margin against Mamba, then Rwenzori will top the group with maximum points, Kengewa qualify as the second team, while Ndovu would go home.
"We know we have to win and to do that, we know we must not repeat the mistakes of last week," he said. "The biggest shortcoming when we faced Kengewa was, we were overconfident and you have seen how we were almost punished," he added.
"We have noted what needs to be done and now it is for us to execute it when we face the Ugandans in their back yard," he explained. In the other game Kengewa have their fingers crossed that Ndovu will slip given that Rwenzori are very strong at home.
Speaking to Feverpitch, Kengewa coach Charles Ngovi said: "We know our chances to qualify are slim, but we cannot give up, given that Kampala is a hard place to visit and Ndovu can easily lose there if they are not careful."
In Pool A, it will be a clash of the titans as Papa face Nyumbu for the top spot. Both teams have already qualified for the semi-finals and will be hoping they can gauge their players ahead of the semi-finals matches next weekend.
The last fixture of the weekend will see Victoria host Kiboko at the Kyadondo grounds in Kampala. This will be the first weekend that Uganda will actually have two matches played at the venue. Both Victoria and Kiboko have not registered any victories and this game will be their quest to at least save face before the tournament ends.
Saturday's Fixtures
Nairobi – Pool B: Nguvu Kengewa v Mamba 2.00pm, RFUEA
Pool A: Bollore Nyumbu v UAP Papa, 4.00pm, RFUEA
Kampala – Pool A: Victoria v Mumias Sugar Kiboko, 2.00pm
Pool B: Rwenzori v Top Fry Ndovu, 4.00pm
Leaders Strathmore out to upset Vikings
Energised Strathmore University returns to the pitch this afternoon at City Park stadium in Nairobi looking for maximum points against Vikings to maintain their grip on the Kenya Hockey Union (KHU) women National League.