Beating Victoria an uphill task, says Papa coach Paul Odera
RUGBY By - | May 10th 2013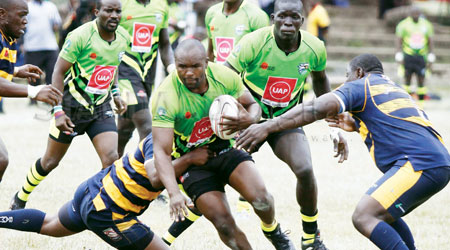 Max Adaka of UAP Papa team tackled by Miller Oroto of Kiboko during the Bamburi Series tournament at the RFUEA ground last weekend. [PHOTO: MARTIN MUKANGU/STANDARD]
By BS MULAVI
Papa coach Paul Odera says it won't be easy to beat Victoria when the two clash on Saturday for the Bamburi Rugby Super Series.
Speaking to FeverPitch after their 53-0 hammering of Kiboko, Odera said even though they will be glad to replicate the result against the Ugandans, he foresees a much more difficult battle compared to their first game of the tournament.
"From what I have seen, Victoria have a very physical approach to the game. They are looking good in the set pieces and that is an area our team did not hit peak performance on against Kiboko," he said.
"Their body positioning in the scrum looks good and they are bound to give us a torrid time when we play against them," he explained.
"I think it's quite unfortunate for them that they conceded the many points against Nyumbu, and I feel that score was not a reflection of the potential of the team and how they are playing," he added.
Victoria lost 70-15 to Nyumbu after they completely let go in the second half where an avalanche of tries were scored by the Kenyan Side.
Victoria are known to be one of the toughest teams when it comes to Ugandan sides in the Super Series and Odera will be taking no chances when the two teams meet. Should Papa win, they would have sealed their place in the tournament semi-final and all that will be left would be to fight for top spot in the group against Nyumbu, who look like the other favourites in the group.
Speaking in similar tune was Ndovu coach Dominique Habimana, who also claimed they expect a tougher contest when they play Kengewa in their second match of the tournament.