Sloppy Van Dijk admits Liverpool deserved to be beaten by Arsenal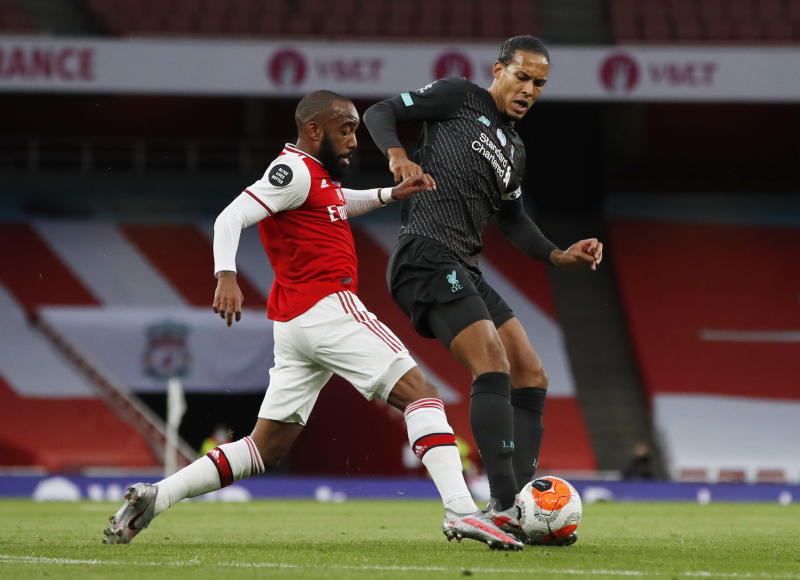 Liverpool centre back Virgil van Dijk has acknowledged Liverpool deserved to be beaten by Arsenal on Thursday.
Liverpool opened the scoring through Sadio Mane at Emirates Stadium but unusual errors from Van Dijk and goalkeeper Alisson gifted Alexandre Lacazette and Reiss Nelson two goals in the first half.
The costly blunders gave Arsenal top-six hopes as Mikel Arteta's side bounced back from the derby loss to Tottenham at the weekend.
"Until their first goal I think it was totally us, we dominated, put pressure on them and we gave them two goals," Van Dijk told Sky Sports News after the match.
"Obviously then it's difficult to come back. We created some opportunities, they tried to break at us on times but if you give the goals away like we did – including myself – then you get what you deserve.
"If you look at the goals then they shouldn't happen, but until then there was nothing wrong. We played very well, pressed them, scored a fantastic goal.
"A moment of concentration, that happens in football sometimes as well, you have to deal with it and today, unfortunately, we had to deal with it twice," he said.
Mistakes happen. That's part of football. But it's how you react to them that matters. Two big games to go, let's finish strong! Can't wait for next Wednesday! ???????? pic.twitter.com/E7kXHwT23x

— Virgil van Dijk (@VirgilvDijk) July 15, 2020
Two of their defeats have come after they were confirmed as the 2019/20 Premier League champions, yet Van Dijk felt using that as an excuse was unfair.
"It's so easy to say that, it's so easy to blame that. If you watch the game, until I made a mistake, there was nothing wrong. We played well," he added.
"I had a feeling we could win here, comfortably, at one point. But if you give them the goals, you see what happens.
"Unfortunately, I made the mistake. I take the blame for it, of course, I take it like a man and we move on," Van Dijk pointed out.
The defeat means Liverpool can now only finish with a maximum of 99 points – one shy of Manchester City's landmark total in 2018.
Lethal striker Pierre-Emerick Aubameyang – who started on the bench as one of five changes – will be expected to return to the starting line-up for Arsenal's FA Cup semi-final against Manchester City on Saturday.
Liverpool will hope to complete an unbeaten Premier League season at Anfield against Chelsea next Wednesday when they will also finally get their hands on the much-awaited trophy.