Olympics team's sacking rejected: World body writes to Kenyan officials, and says that NOC-K is independent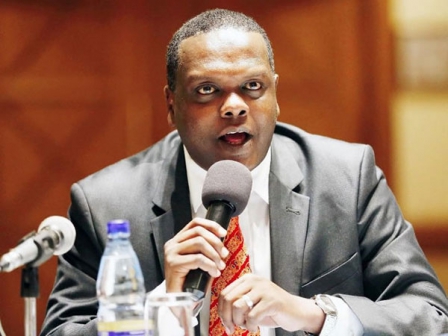 Kenya risks a ban from the Tokyo 2020 Olympic Games, following Sports Cabinet Secretary Hassan Wario's decision to disband the National Olympic Committee of Kenya (NOC-K).
International Olympic Committee (IOC) Deputy Director General Pere Miro, yesterday warned that the body is ready to ban Kenya for interfering with NOC-K's responsibilities and powers, breaching Chapter Two, Article 16 of the Olympic Charter.
"It is, however, with great surprise and concern that the IOC and ANOCA (Association of National Olympic Committees of Africa) have learnt of the statements and actions initiated by the Ministry of Sports against your NOC and some of its members, in particular the so-called 'disbandment' of your NOC and the so-called 'transfer of responsibilities' of the NOC to another body.
"As a result of these actions, we understand that access to your NOC's office has been restricted by the police," reads a letter from Miro dated September 2 and addressed to NOC-K President Kipchoge Keino, Secretary General Francis K Paul and its members.
The letter says it was still unclear on which basis, if any, the actions had been taken against NOC-K.
"However, they obviously constitute undue interference of government authorities in the powers and responsibilities of your NOC, which is a non-governmental, autonomous and legally independent entity, whose primary existence and jurisdiction (and right to call itself a 'National Olympic Committee') are derived from its recognition by the IOC, in accordance with the Olympic Charter," the letter reads.
Miro said the Kenyan government authorities cannot substitute themselves for the jurisdiction, powers and responsibilities of a NOC.
Wario disbanded NOC-K last week and its top officials arrested. An independent body was then constituted to investigate allegations of mismanagement and mishandling of Team Kenya at the recently concluded Rio 2016 Olympic Games.
The IOC said the disbandment could have harsh repercussions.
"As a result, such actions would unfortunately expose your NOC and the Olympic Movement in Kenya to the protective measures provided in the Olympic Charter in these circumstances," the letter reads.
The IOC urged the government to speed up its investigations on NOC-K's arrested officials, dialogue and quickly rectify the situation.
"At this stage, it must be recalled that the presumption of innocence must prevail, as always in these circumstances and in accordance with the principles of natural justice," Miro said in the letter.
The international agency said it is ready to invite both the government and NOC-K officials for a joint meeting at its headquarters in Lausanne, Switzerland, to solve the stalemate.
The IOC urged the Government and NOC-K to engage in a serene and constructive dialogue, with mutual respect, to clarify any misunderstanding, which might have led to "this regrettable situation".
It also called for fruitful co-operation in the future.