Beijing was my turning point, says Jelimo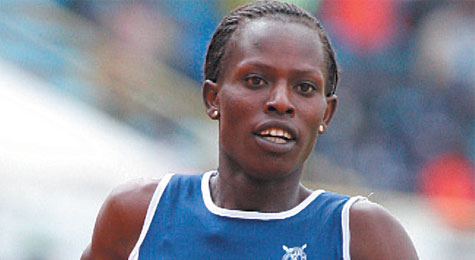 Pamela Jelimo
By Chris Musumba
The Olympics is the ultimate stage in an athlete's career and it was no fluke when Pamela Jelimo wrote history in Beijing 2008 to become the first Kenyan woman to clinch gold in the games history.
"The Olympics made me a world star. It changed my life, my focus and my attitude. I was in top form when winning, and I believed I deserved it. It has redefined everything in my career as an athlete. All my contracts are done with the Olympics in mind," said Jelimo.
She made her breakthrough at the 2008 African Championships in Athletics aged 18. Her time, 1:58.70, was a national junior record. A month later she won 800m at the Hengelo Grand Prix event and set a new Junior World Record of 1:55.76 ending the previous record (1:57.18) set by Yuan Wang of China in 1993.
She also set a new Kenyan record when she run in Berlin clocking 1:54.99 to end Janeth Jepkosgei's (1:56.04) tenure as the national champion. It was also a new African record. Maria Mutola had set the previous African record (1:55.19) in 1994.
Jelimo won gold in the 800m at the Beijing Olympics (1:54.87). Later she won the IAAF Golden Jackpot in a personal best time of personal best of 1:54.01 in Zurich. She, however, suffered an ankle injury that saw her form dwindle failing to qualify for the Berlin World Championships finals in 2009. She made a comeback in 2012 and won the World Indoor Championships 1:58.83.
Now Jelimo wants to prove to the world what it feels like to make a comeback and London will be the stage to show case her true form and reaffirm that she is just taking off the blocks in her athletics.
"I am ready for London. I want to do well and hope Kenya will dominate the event," said Jelimo.
Born May 12, 1989
Personal Bests
July 2007 200m Ouagadougou 24.68
June 2008 400m Nairobi 52.78
August 2008 800m Zurich 1:54.01
April 2009 1500m Kakamega 4:19.31
Achievements
Olympics Games
Gold 2008 Beijing 800 m
World Indoor Championships
Gold 2012 Istanbul 800 m
African Championships
Gold 2008 Addis Ababa 800 m
Silver 2008 Addis Ababa 4x400 m relay
Gicharu hopes for the best in Games debut
Kenya's Olympic bound boxer Benson Gicharu Njangiru settled for silver medal in the men's flyweight 52kg at the International Amateur Boxing Association Olympics qualifiers for Africa that ended in Casablanca, Morocco in May.