Not letting gold out of the vault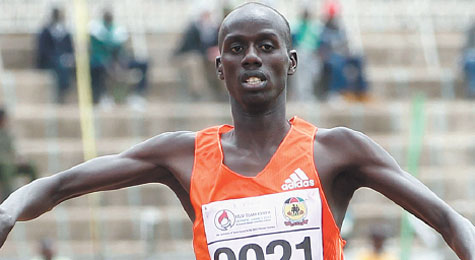 Brimin Kipruto
By Chris Musumba
Brimin Kipruto's given name is actually Firmin, but it was mistakenly transcribed by a clerk in 2001 when he was applying for a birth certificate so as to secure his first passport. He has been identified officially as "Brimin" ever since.
In Athens he was part of a Kenyan sweep as Kipruto and his teammates, Ezekiel Kemboi and Koech, began pushing the pace at the start of the second lap and dropped all but former compatriot Moses Kipchirchir (now Moussa Omar Obaid of Qatar).
Kipruto collected silver (8:06.11) behind Kemboi's 8:05.81, with Koech third.
"The Olympics are the best competition ever. Your contracts will improve if you win a gold in Olympic and I hope to do just that and see where I will be next year," he said.
"It is not easy coming from Kenya to compete at three Olympic games. I want to make it four but we will have to up my game because younger athletes are emerging. Everyone wants to compete at the Olympics, because it defines who you are in sports and that is why it is a tough competition. Winning is hard, but I believe Kenya will do well in steeplechase and continue the domination."
A World Championships bronze medallist in 2005, he took his first global title in the steeplechase with a win at the Osaka 2007 World Championships. He also won bronze in Delhi Commonwealth games.
Kipruto, who owns the second fastest ever steeplechase time in the world (7:53.64), believes World Champion Ezekiel Kemboi, who beat him to the silver in the 2004 Athens Olympics, and Abel Mutai will dominate the London games.
"We have a very strong team. We are all supporting each other in the team preparations with the sole purpose of doing well at the London Olympics," said Kipruto
Born July 31, 1985
Personal Best
July 2006 1500m 3:35.23 Stockholm
May 2006 3000m 7:47.33 Doha
July 2001 2000m SC 5:36.81 Debrecen
July 2011 3000m SC 7:53.64 Monaco
Achievements
Olympic Games
Gold 2008 Beijing 3000m SC
Silver 2004 Athens 3000m SC
World Championships
Gold 2007 Osaka 3000m SC
Silver 2011 Daegu 3000m SC
Bronze 2005 Helsinki 3000m SC
Commonwealth Games
Bronze 2010 Delhi 3000m SC
World Youth Championships
Silver 2001 Debrecen 2000m SC
World Junior Championships
Bronze 2004 Grosetto 1500m
African Junior Championships
Silver 2003 Garoua 3000m SC