Kirwa on a mission
OLYMPICS By - | July 5th 2012 | 2 min read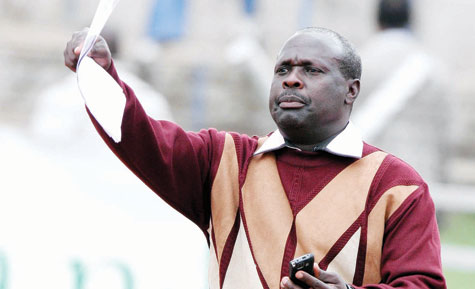 Athletics head coach Julius Kirwa instructs his charges. [PHOTO: STAFFORD ONDEGO/STANDARD]
Kirwa on a mission
By GILBERT WANDERA
National athletics coach Julius Kirwa is a man on a mission ahead of the London Olympic Games that start in about three weeks.
Kirwa is not happy that Kenyan men have not won gold in the 10,000m and 5,000m events for a very long time and says this has to come to an end and London is the place for that to happen.
"It has been too long since we won the top prize in both races during international competitions like the Olympics or even the World Championships and it is a concern for me. This time we are very eager to win something and are all focused on achieving just that," he said.
Kenya last won the 10,000m gold at the 1968 Olympic games through Naftali Temu with John Ngugi last winning the 5,000m in 1988 in Seoul, south Korea.
Kirwa said he was confident that athletes selected in both events have the ability to end Kenya's long wait.
The men's 10,000m team has world half marathon champion Wilson Kiprop, Moses Masai and Bidan Karoki. The three were selected after trials held in Oregon, Eugene in the United States of America.
The men's 5,000m team has Isaiah Kiplangat, Thomas Longosiwa and Edwin Soi.
"We picked a strong team during the trials and we remain confident that our efforts will pay off in London," added Kirwa.
In a bid to improve the performance of the long distance runners Athletics Kenya had early in the year set-up a specialised training camp in Rift Valley and the coach believes the results may be visible during the Olympics.
Surprisingly, Kirwa says, Kenyans should not be concerned about their long time rivals Ethiopia but rather other Kenyans who are turning out for their adopted countries.
"Ethiopia is not our concern. We have many Kenyans running for their adopted countries and these are the people we should worry about.
"They are young and unknown and it makes them dangerous," he said.
Meanwhile, Britain's official target at the London Olympics is to win at least 48 medals across at least 12 sports, a slight increase from the total haul at the Beijing Games in 2008, adds AP.
The host team is still aiming to finish among the top four, which has been the goal ever since the Beijing Games, UK Sport said on Wednesday.
Britain won 47 medals across 11 sports in 2008, finishing fourth behind China, the United States and Russia.
"The majority of people will judge the success of this event not on how smoothly the transport system runs but where we are in the medals table," British sports minister Hugh Robertson said. UK Sport said Britain could win as many as 70 medals.