Lugalia, man with the Midas touch, moulds St Anthony's into winners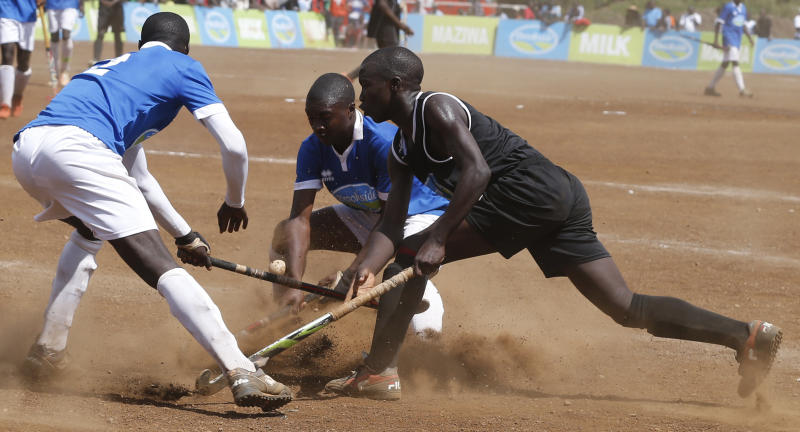 The tactician is one of a kind as he led the school to several titles despite teaching in another school.
Most people equate success to money and wealth, but for coach Kelvin Lugalia, watching his students succeed in life, is the true meaning of success.
Christened 'coach Carter', the main character in the teens' sports film by the same title, the no-nonsense hockey coach has ensured that his hockey players as well as other students, excel in academics too.
Coach Carter, played by Samuel L. Jackson, tells his players that winning on the court only is not enough.
Even though his team is undefeated, the tactician still suspends some of his top players for poor performance in class.
To drive his point home, Carter not only transforms the basketball court into a classroom bringing play to a sudden halt in some instance, but also gives high grades as a condition for the players to regain their positions in the team.
It's the same with Lugalia. His players are top achievers, who over the years, have attained top marks in Kenya Certificate of Secondary Education exams.
"I measure success based on how my players and students are doing in life. Seeing them pass their exams, go to university and make a life for themselves is what I consider to be success," Lugalia said.
And he is indeed successful as some of his players have not only scored on the pitch winning titles, but also emerged as academic achievers.
Michael Juma and Victor Chidi are engineers, while Dennis Wakhisi, Davis Kibet and Reuben Nzioka are doctors. James Juma is a certified accountant.
Lugalia's friendship with current Kenya Hockey Union vice president Mike Malungu was his beginning to a successful journey in hockey.
"He (Mike) introduced me to hockey. We come from the same village and his late mother was the Principal of Lirhembe Girls in Kakamega, so we trained at the school ground every time I visited him," Lugalia said.
He enrolled at Musingu High School in 1996 and joined the football team but that didn't last and within a week, he was out and back to hockey.
"I couldn't play football because I had a tiny body frame. I realised that the safest place to be was on the hockey pitch because I knew how to play the game," he added.
Lugalia says beating Friends School Kamusinga 2-1 in the 1998 regional final is his best moment. After shoving Kamusinga out of the way, they finished third at the nationals.
After completing form four in 1999, he joined Moi University and represented the university in local and international varsity games.
At the university, he doubled up as coach and captain from first year. In 2003, Lugalia and best buddy Malungu also a coach would face off in the final of the East Africa University games held in Dar es Salaam, Tanzania.
Malungu's Jomo Kenyatta University of Agriculture and Technology carried the day as Lugalia settled for silver.
Lugalia's passion for hockey saw him start giving back to his alma mater long before he graduated in 2005.
After he was employed by St Anthony's in 2006, his star started shining as he led the school to the Rift Valley Region finals the same year.
In 2007, they qualified for the national games and finished third.
"The boys improved gradually and we made a step up the ladder every year," Lugalia said.
It was during the same time that Lugalia, together with Peter Okova of Kakamega High School and Kevin Chimwani, spearheaded Western Jaguars then known as Amalemba Hockey Club, in the Premier League.
"The club had been in existence for some time, but we wanted to improve it. It was the only club in the entire Western Region and we wanted to make it strong so that our boys, who completed school, could get a chance to continue playing," he added.
He got his big break in 2008 when St Anthony's finished second behind bitter rivals Kamusinga and qualified for the East Africa secondary school games.
Fired up by their first trip to the regional games, St Anthony's played their hearts out to win the title in Kigali, Rwanda.
"We all wanted it and the boys were determined to make the trip worthwhile and resolved to fight for the trophy," said Lugalia.
In 2009, Lugalia was employed by the Teachers Service Commission and deployed to Maridadi Mixed Secondary School, in Kitale, but his thrill to coach St Anthony's remained intact.
"I taught in my new school then would rush in the evening to coach St Anthony's. I did that for close to five years before I returned to the school as a teacher, in 2014," Lugalia said.
Between 2009 and 2014, he led St Anthony's to three national (2009, 2011, 2012) and East Africa titles (2010, 2011, 2012).
"It (Maridadi) was a small school compared to St Anthony's and hockey wasn't very popular there because of its exorbitant cost. I had also made a commitment to my boys to nurture their talents," said the English and Literature teacher.
St Anthony's failed to qualify for the 2013 and 2014 national games but returned stronger in 2015 and since then, they have played at both national and East Africa games.
They won three national titles in a row from 2017 and also bagged the 2015 and 2016 East Africa gongs. Lugalia says his father also played hockey and inspired him to do well in the sport.
Owing to his ability to bring the best out of young players, Lugalia was, in 2010, in charge of the Kenyan under-18 girls' team to Olympic qualifiers held in South Africa.
He also coached the under-18 boys' team to the 2014 Olympic qualifiers in Zambia.
In 2018, he led the boys' five-aside team to a third place finish in Algeria as they qualified for the Youth Olympics.
He says that even though the boys did not shine at the Olympics held in Buenos Aires, Argentina, they gained invaluable exposure.
"It was a great experience for all of us because I also got a chance to learn from other countries. Most of our players never get a chance to play internationally and I must say that they were very fortunate to have graced the bigger stage at a very young age," Lugalia added.