MAKING HOCKEY GREAT AGAIN: Diaz to lead Union in engaging world leaders to make the sport bigger
In 1971, Kenya finished fourth at the hockey World Cup in Barcelona, then a string of success stories followed. Kenya dominated not only Africa, but the local boys could beat literally almost any opponent. All that is history now, and there is little to write home about Kenya National team both men and women at the international stage.
Just last week, Kenya successfully hosted a low key Africa Cup of Club Championships thanks to Zimbabwe's decision to withdraw from the games at the eleventh hour.
Being the hosts, Kenyan ladies Orange Telkom did not disappoint. For a ninth time, the local girls proved their supremacy over their African counterparts. Under the leadership of Jos Openda, Orange Telkom have won the continental title five times in a row.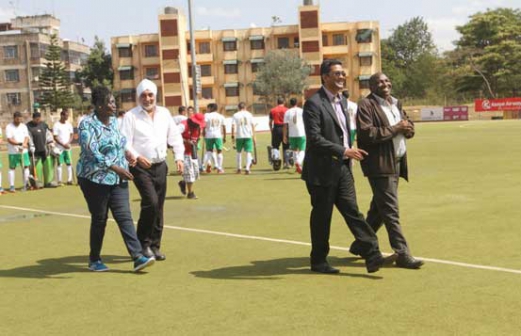 But there is very little to show from their success. How a Kenyan team can dominate Africa for close to a decade but still remain uncelebrated locally remains a puzzle.
While Kenyan clubs were fighting it out at City Park, Nairobi, it was all business as usual in the capital. Very few people knew about the event and there was little activity outside the country's only public Astroturf pitch.
Apart from routine coverage by sports journalists, the rest of the country went on with their business as if there was nothing-big happening in Parklands. And even when the local girls edged out Ghana Revenue Authority at the finals, celebrations were only at the City Hockey Park Stadium.
However, all the pomp and glamour witnessed at the stadium in Parklands is now set to spread over the country. According to the new Kenya Hockey Union's patron, Chris Diaz, plans are in place to restore Kenya's lost glory in Hockey.
"The journey towards transformation of Kenyan hockey has started and we have laid down clear objectives and strategies that are achievable," said Diaz.
"My first step was to listen in to all stakeholders right from the ex-players to the coaches, officials and the clubs. Now that I have the right picture plus a plan, we want to involve everyone in a process that will see us realize meaningful change starting this year," added Diaz.
The patron's sentiments come at a time when a number of players are quickly losing hope from the sport.
Last Thursday, Openda after being crowned coach of the year at Kenyatta International Convention Centre during Sports Personality of the Year Awards (SOYA), hinted at leaving his position as women's head coach but will still provide advise.
"Other teams benefit a lot by playing us but we do not gain anything," said Openda.
"It would be better if we were to play against top teams at the world championship stage to improve our standards but as things stand, we only play continental games then come back to the local league and back to continental. There is no growth," said Openda.
Openda argues that locally, the game has developed so much that there is very little competition within the continent. To quench the industry's thirst for new challenges plus the desire for growth, KHU will now engage World leaders like Germany, Australia, Holland and India in an effort to promote the development of the game and give more exposure to the players.
"Europe has changed the way the game of hockey is being played today and there are new skills and tactics that make them a notch higher than the rest of the world. The rules of the game too have changed over time and I agree with Openda that we must now adjust."
"Since hockey is a major sport at the school level, the partnership with Holland would start with the young players and the umpires.
"We have already started a program that will see training of the coaches so that the impact can start with the upcoming players
"When I was in Holland and Germany, we found three year old kids being introduced to the game of hockey and they have structured programs running through various age groups. As such, we are in talks with some of their universities, colleges and schools to have partnerships and scholarships that would see our young boys and girls develop.
"I thank the president Uhuru Kenyatta and his government for the support to sports especially rugby and hockey among other games and we appeal to the ministry of sports to facilitate the worn down astro-turf at Parklands," added Diaz.
To attain full potential, KHU requires support beyond the Universities and colleges that are today the only entities supporting Hockey. Apart from few community clubs that are struggling to stay afloat, there is need for local and international corporate firms operating in Kenya to help in sponsorships.
A number of players who spoke to The Standard lamented that there is little support from Kenyan business industry and the clubs have to struggle with basics like paying allowances and medical cover for players.