About Noah Wanyama as his son Victor Wanyama wishes him happy Father's Day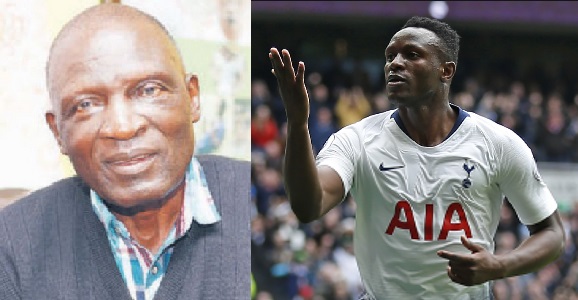 Harambee Stars captain Victor Wanyama on Sunday afternoon took to Instagram to wish his dad Noah Wanyama happy Father's Day.
Father's Day is celebrated to honour fatherhood and paternal bonds, as well as the influence of fathers in society.
It is celebrated in most countries on the third Sunday of June.
To mark the occasion, the star shared a throwback photo of his father to his Instagram followers and captioned it: rified'Happy Father's Day Dad, and all the father figures around the world who have been providing protection, stability and care to their families we love you.''
Since being posted on Instagram, it has received more than 4k 'likes' with his fans also leaving delightful comments.
One person wrote: "Happy father's day to him."
Another commented: "Happy Father's Day."
And a fourth added: "Bless my Bro."
About Noah Wanyama
Two years ago, in an interview with The Standard, Wanyama's father opened up about his life and the immense pressure of caring for his family while being a coach that meant spending more time in the field and less at home.
Noah Wanyama, who is father to Mariga, Victor, Sylvester, Thomas, Mercy, Volnet and Cynthia, threw himself in playing barefoot as a student in Samia, Busia County where he was born.
In no time, his talent was shining, and in the 1960s AFC identified him. He later rose to become the team's coach.
When he had his first child, McDonald Mariga, he was conflicted on how to balance fatherhood and football.
"I started going with Mariga for practice at City Stadium when he was only nine. He would carry my bag, and wipe my shoes, and I would help him make polythene balls to play with," he said.
As he got more children, he promised not to shortchange them by prioritising football and abandoning his role as a father.
He recalled the many days he would have his four sons - Mariga, Victor, Thomas and Sylvester walk in a single file ahead of him as they headed to the pitch.
"If someone had told me that I was raising stars, I would have laughed. Their clothes were torn, their mother would sew patches on them – life was tough," he said.
"I did not force them to play. I showed them that if they want to get into sports, I will support them," he said.
He admits that he might have been too strict on his children. Like when he demanded that none of them should try boxing.
"I heard about that boxer whose ear was bitten off, and I said, that is not what I want for my children," he said.
Cynthia laughs when she recalls the 'hide and seek' games they had when his father would come fuming, looking for her on hearing she was seen boxing.
Mercy says their father reinforced the idea that he would not tolerate groupies.
"He would quiz our friends, ask about their background and insist on knowing everything about them before allowing us to hang out with them," she said..
Wanyama cracks a smile, lowers his voice and says he did it to protect them.
He was bringing them up in Muthurwa slums, and he had witnessed many children sliding through the cracks of drugs and gangs.
"Even now, they cannot come home drunk. They respect me as their father. They know the lines, even when they become champions," he says.
He concluded that fatherhood is like football; you get in knowing you must win. Your children are the ultimate cup, and even though you lose some matches, you still love the game with all you have.
Additional reporting by Mercy Adhiambo