Otambo is the reigning Beer drinking champion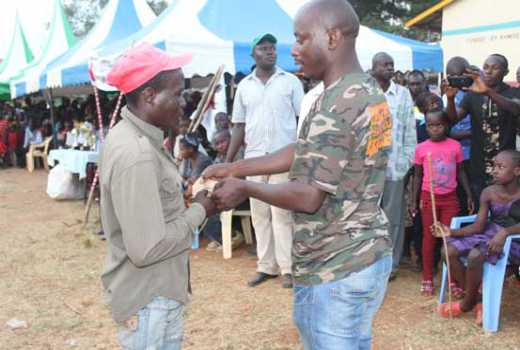 Charles Otambo beats his bitter rival Alekana James to win the inaugural beer drinking competition on Tuesday 2nd at Emulunya primary school, Kisa eastward in Kakamega county.
With all the six participants exhibiting confidence to bag the bragging rights for beer drinking competition, a rare annual game that has become hilariously funny in Emulunya village in Kakamega County, Kwhisero division, the referee Mr. Billy Buchere blew the whistle.
This was a memorable race, one of its kind that gave fans a treat that got their eyes popping out of their sockets as different competitors showcased their ability to gulp liquor from the bottle in a fast paced competition.
One Alekana James alias Nabongo came to this competition as the reigning champion, and was confident to retain the title he won in 2017 but to his utter disbelief and to the dismay of his fans who had tipped him to comfortably defend the crown, his rivals had upped their game to another level as he was relegated to the fourth position.
The new king in the competition, Charles Otambo, who had lost to Alekana by a whisker in the previous year, made amends of where he got it wrong so that immediately the bottle caps of the Guinness had been opened, nothing but his breath seemed to stand on his way to glory and yes he emptied the contents in a record 10 seconds.
He would later hold high the parcel containing his reward to the satisfaction of his fans and Alekana who conceded defeat to congratulate him.
Beer drinking competition has been embraced as one of the fun games that accompany the annual Sir Charles Oppong Buchere tournament which is a very competitive memorial cup.