Country wide young golfers tour launched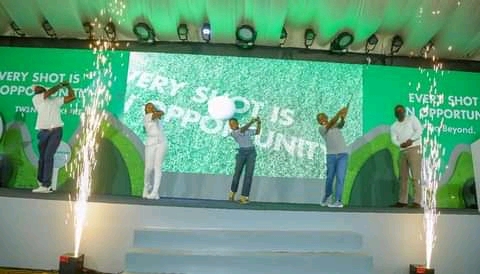 Safaricom has rolled out a national golf series dubbed the 'Safaricom Golf Tour' with an aim to tap, nurture and grow talents among young golfers across the country.
The 14-leg amateur series will culminate with the grand finale at Vipingo Ridge Golf Resort in August where winners from each category will converge to have the overall champion.
The series will include junior competition, youth clinics and golf outreach programs. These will be run in partnership with the junior Golfer Foundation and Kenya Golf Union.
The tour will also feature a caddies tournament in partnership with the Kenya National Caddies Association.
Speaking during the launch at Ngong Race Course in Nairobi, the PS Ministry of Sports, Culture and Heritage Joe Okuda said golf has kept the tourism sector going despite the Covid -19 pandemic.
He further said the ministry will corporate with other stakeholders in improving golf facilities across the country.
He noted that the Safaricom golf Tour will be a great platform to exploit young talents in the country since golf is trying to find its space in sports in the country.
"Every shot you get turn into an opportunity and with the tour, it is the beginning of developing of golf sport making it accessible to many in Kenya," said Okuda.
The national coordinator Caddies Association, Peter Mutua noted that this is a dream come true.
He reiterated that is through sponsorship of Junior golfers that the association can nurture talents and move the game to another level.
"With our sponsors on board, we expect the armature series to continue improving in future and we will put up a player in the 2028 Olympic games," said Mbatia.
He further said that game of golf will grow when junior golfers are involved. 40 students have enrolled in learning the golf course.
Safaricom CEO, Peter Ndegwa said sports sponsorship remains an integral part of his organization, through it many lives are transformed especially the youth.
"Our goal is to provide a platform that seek to demystify the game which has long been associated with elites and position it as one that is accessible for all. The young golfers we nurture and develop have an opportunity to become the next generation of professionals," said Ndegwa.
Overall winner went to Bianca Mwangi, winner men was Patrick Mackenzie, overall winner caddies went to Peter Ndegwa the Safaricom CEO while girls and boys junior category was won by Audry Gachora and Andrew Gathere respectively.