Excitement as Johnnie Walker Classic walks back after 8 years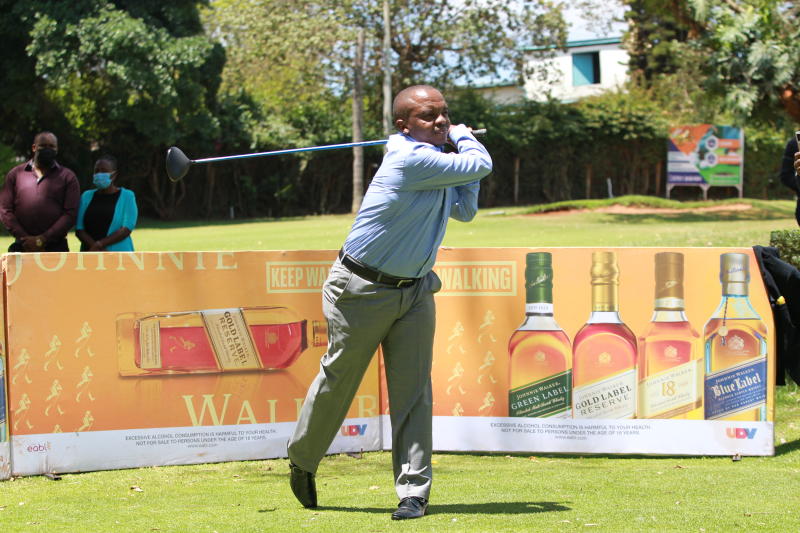 Professional Golfers of Kenya chairman John Chege Wangai is among players who are excited with the return of Johnnie Walker Classic Golf Series that was relaunched in Nairobi, yesterday.
The prestigious circuit makes a comeback after an eight-year hiatus.
"This is a very noble initiative, which will keep the golfers busy besides the ongoing Safari Tour Series whose fifth leg, the Uganda Open, is headed to Entebbe," the Sigona Golf Club resident pro told Standard Sports.
Wangai, who also doubles up as Team Kenya captain, said the series will help improve the players' focus and fitness level ahead of the Magical Kenya Open slated for Muthaiga Golf Club, next March.
"As pros, we need to play every week. The more we play, the better we will be ahead of the Kenya Open next year," said Wangai.
Wangai's sentiments were supported by Vet Lab Sports Club pro Mike Kisia, who said he can't wait to participate in the series.
"I'm already inspired to take part in the circuit. I hope my batch will win two or three legs of the competition," Kisia said.
Jastas Madoya of Great Rift Valley Lodge and Golf Resort was also hopeful that his club will come up with a lethal four ball that will be a force to reckoned with in the series.
"I think this is a great idea. The competition will keep me busy," Madoya said.
The series dubbed 'Road to Gleneagles' will begin tomorrow at Vet Lab with over 200 players in contention.
Thika Greens Golf Club will be the next destination on November 27. The pros will battle for Sh500,000 in each of the 20 legs spread from November to May 2022.
Amateur golfers will contest for the once in a lifetime trip to the iconic Gleneagles Golf Course, Scotland where the best Kenyan will take part in a high-profile tournament.
"Pros will start their play on Friday and join the amateurs on Saturday in every event.
The pros will be rewarded with cash while amateurs will battle for an all expense-paid for trip to Scotland," said Mutinda.
"In case there is a tie in the Grand Finale to be held in May at Karen, a playoff will be organised to determine the winner of the trip," he added.
To enhance engagement and competition, the series will consist of 18 qualification rounds across participating clubs where 216 golfers will qualify to play in the latter stages of the event.
This will then be followed by a semi-final round to reduce the field to the top 25 teams – or 100 players – who will play at the Grand Finale.
Mumias Golf Club's Dismas Indiza, his brother Abraham Maichi of Nandi Bears and Paul Kagwamba of Karen Golf and Country Club represented Kenya in the 2017 world finals.