Newcomer Maali wins Lady Captain prize in Limuru meet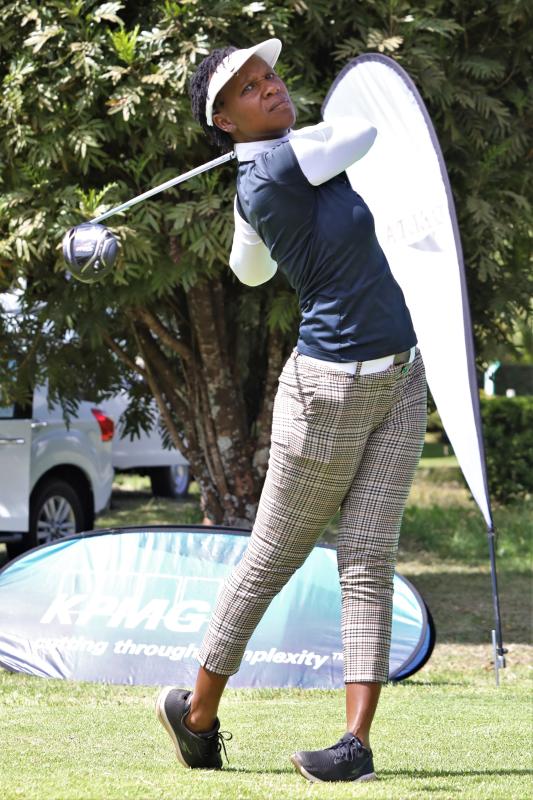 Maria Maali emerged the overall winner of Limuru Lady Captain (Wambui Gitonga) Prize over the weekend, on an impressive score of 41 stableford points.
Playing off handicap 46, Maali outshone a field of 470 golfers who participated in the two-day meet, which was presented by Galana Oil, DTB Bank, Safaricom Limited, KPMG, KCB Bank, Edenbridge Capital and Naivas Supermarket.
Others were Garmin, PolyChem, Thika Motor Dealers, NCBA, Kericho Gold, Lucozade, Exuviance Professional, Kilele, Johnnie Walker and fans of Lady Captain Wambui.
The tournament was held to celebrate Wambui's stint at the helm of Limuru Country Club Ladies golf.
Her term's highlight was the enrollment of 20 new lady golfers in the section and handicapping them. She was also instrumental in hosting Medals, twice in a month.
Under her leadership, Wambui has seen the club's team at Francombe and RNGC leagues secure first and third spots with two matches to go.
On the course, Maali secure a deserved win after combining 20 stableford points from the front nine and 21 stableford points from the back nine to triumph in the day-long tournament.
Hannah Gatu donned the Lady Winner medal on a score of 38 stableford points. Lady winner second prize went to M Wahome, who posted 37 stableford points to beat Wairimu Maina to Lady Winner third on countback. Rozitta D'souza settled for Lady Winner fourth.
Andrew Koech clinched Men Winner prize on a score of 39 stableford points as he edged out Men winner second AK Njoroge with a similar score of 39 stableford points on countback.
Handicap 17, Alex Kiome won Men winner second prize on a score of 38 stableford points with G Nganda trailing him with 38 stableford points.
Top Junior Lass golfer was Chanelle Wangari, playing off handicap 1, who fired a round total of 36 stableford points as Benny Dinkins, playing off handicap 32, won in the boys' category with 46 stableford points.
Other junior winners were; Leo Gitonga (third) 36 stableford points, Bianca Ngechu (fourth) 35 stableford points, Jason Kamau (fifth) 40 stableford points, Asa Dinkins (sixth) 31 stableford points, Stephen Kihiu (seventh) 29 stableford points and Nehemiah Dinkins (eighth) with 29 stableford points.
In the Guest category, Rhoda Koech, playing off handicap 38, was the Best visiting Lady golfer.