Mayiani wins at Karen as Mwaura, Truphena are best at Ruiru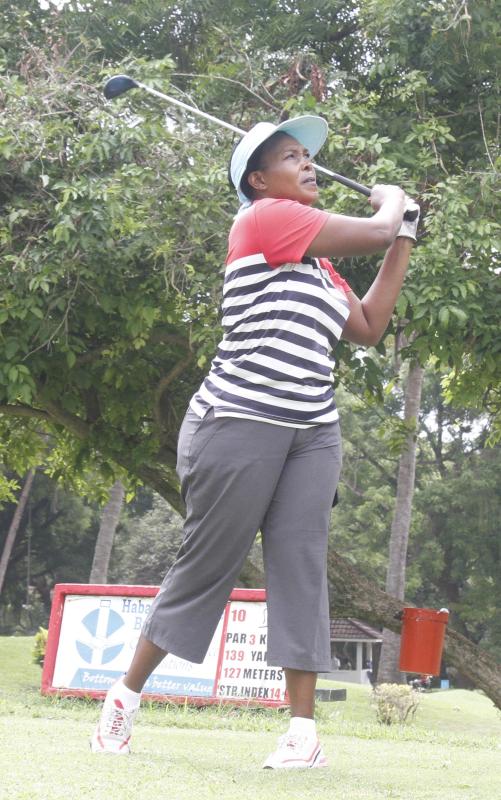 Grace Maiyiani carded an excellent 48 stableford points to emerge the overall winner of the Chairman's (Alan Wainaina) 2021 Prize golf tournament at Karen Country club on Saturday.
Ronnie Mwangi scored 43 points to claim the men winner slot and Julius Irimu on a countback score of 40 points was the runners up, tying in the same score with third placed Tirus Mwithigia.
The best past Chairman Prize was won by Robin Mogere on 36 points while Robert Keter was the Gross winner with 35 gross.
Grace Onyango brought 38 points to win the Lady's prize, a point ahead of Nellie Njaga who was the runners up.
At Ruiru Sports Club on the same day Henry Mwaura playing off handicap 25 carded a count back score of 41 points to emerge the Men winner of the 2021 Rware golf tournament.
He had tied with the same score with Zak Muigai who was the Men runners-up while James Mwaura settled for the third slot on 40 points.
Liz Mwaura emerged the Best Lady on 42 points and Beatrice Ngima was the runners up with 37 points.
At the par 71 Mombasa Golf Club course, George Githinji brought 71 nett to win the A Division in the July 2021 Mug tournament sponsored by friends of Christine Kuria also on Saturday.
The B Division was won by the Club Chairman Ken Mwangi on 78 nett while Peter Cheruiyot on 65 nett and Paul Koech with 60 nett were the Division C and D winners respectively.
The Medal winner was Truphena Oyaro on 76 nett.
At Vet Lab Lucy Njoroge and Henry Njoroge brought a joint 38 points to emerge the mixed foursomes in the Lady Captain's (Susan Ngure) 2021 Prize tournament played on Friday.
M Mbataru and Paul Ngugi brought a count back score of 38 points to emerge the runners up after tying with Rachel Ndei and Godwin Karuga.
Martin Makundi and Jack Mureithi with a score of 37 points were the Four winners.