Mumbi is fairest of them all in Thika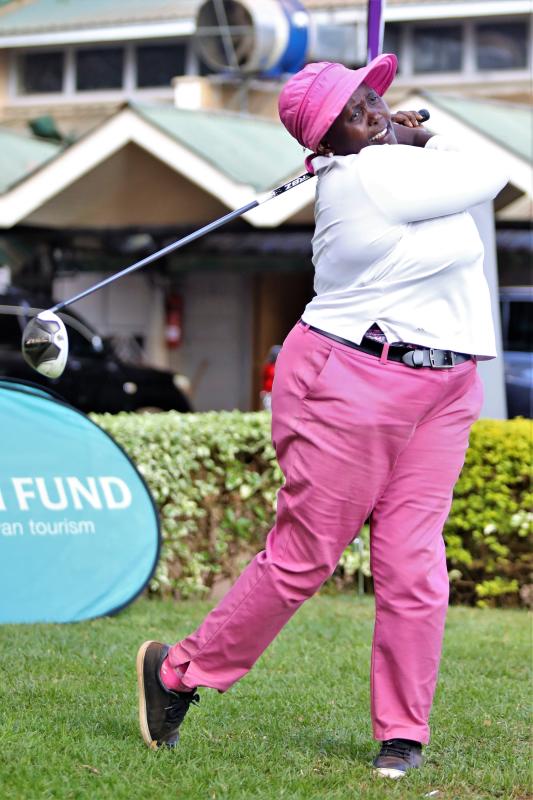 On a commanding score of 42 stableford points, Mumbi Njuguna claimed Thika Sports Club Lady Captain (Maria Muthee) prize over the weekend.
Playing of handicap 30, Mumbi had a great outing on the par-72 course tilting 6008yards during the tournament that saw a field of 246 golfers participate.
With most of the Lady golfers clad in white and pink attire to join the world in commemorating the month of October as Breast Cancer Awareness Month, where all efforts are devoted to increasing attention and support for the awareness, early detection and treatment as well as palliative care of this disease.
The meet was presented by; Tourism Fund, Haco Industries, Kericho Gold, K2U Africa, Lucozade, B-Hive, Finsco, Muungano Micro Finance, Dawa Limited.
Others were; NCBA Bank, Thika Motor Dealers, Ketepa Tea, and Friends of the Lady Captain.
The event heralded Lady Captain Maria Muthe's stint at the helm of the club Ladies section for 2019-2021 period which ends in December.
It is during her tenure, that Thika Sports Club joined RNGC league where they are currently leading the pack with 51 points. Teams participating in RNGC Shield league include; Karen Country Club, Kiambu Golf Club, Limuru Country Club, Muthaiga Golf Club.
Also in the mix are; Kenya Railway Golf Club, Royal Nairobi Golf Club, Ruiru Sports Club. Sigona Club, Vetlabs Sports Club and Thika Sports Club.
Mumbi who had been on a golfing sabbatical after Covid-19 pandemic struck, decide to hit the fairways for exercise with the ravaging effects of the outbreak easing, was in her element as carded 17 stableford points on her outward nine with a better inward nine from where she picked an additional 25 stableford points to triumph during the event played under clear blue skies.
Despite a lone par from her round of 18-holes, Mumbi benefited from double-strokes courtesy of her handicap which saw her reap big.
With 12 bogeys, six from either nines a few double-bogeys a d a single no-return on the par-four 12th where she made a seven.
"I had been away from the course after the pandemic struck but recently I returned with challenges with my putting but I kept at it and told myself that the day I will be back in form with my putting I will return a good score. Yes, I finally got there with today's win." Mumbi said while delivering the winners speech.
Ironically, Mumbi initiated and taught outgoing Lady Captain Maria Muthee how to play golf and says it was gratifying to win the top accolades in this tournament.
Handicap 19, SM Kibuiya was Men winner on a score of 38(19+19) stableford points with Brigadier J Muracia coming in second on 39(21+17) stableford points.
In third place, was handicap 18, Vincent Karumba who returned 37(19+18) stableford points.
Donning the Lady's gong, was Agnes Kuria playing off handicap 23, who posted 37(19+18) stableford points to shine.
Lady winner second prize was won by a handicap 14, Betty Ndenderu, who carded 36(19+17) stableford points with handicap 33, Wanjiku Njoroge winning Lady Winner third prize on a score of 35(18+17) stableford points.
In the Supp category, youngster Roy Ruo playing off handicap 29, fired a sterling round total of 46(23+23) stableford points to prevail. Ayub Macharia was second with 41(21+20) stableford points with Engineer H Karanja coming in third on a score of 40(24+16) stableford points.
The best guest player was, James Njogu, playing off handicap 17, who posted 40(21+19) stableford points. Taking Guest Men second was handicap 24, Steve Kiano after returning 36(19+17) stableford points as John Njenga came in third with 35(17+18) stableford points.
Guest Lady Winner prize went to a handicap 36, Hilda Ng'ang'a on a score of 41(22+19) stableford points. Handicap 28, Beth Mugo came in second with 37(20+17) stableford points.
In the commercials; Chris Mwenda won Logest Drive Men prize with female golfing sensation, Chanelle Wangari claiming Longest Drive Lady winner prize.
James Njogu bagged Nearest to Pin Men prize with Winfred Mumbua wing Nearest to Pin ladies prize.
12 twos were registered during the meet by; Linda Kinyua (fourth), Edward Nyamu(fourth), Eng Ken Chege (16th), Kimata Muoria (16th), Salome Kamau (16th), Sam Njenga(13th).
Others were; James Njogu (11th), Bernard Macharia (16th), Isaac Njehia (fourth), Njunguna Ndungu (16th) and Simon Ndungu on the fourth with each of them winning 18 golf balls.
At Nanyuki Sports Club, Handicap 24, Robert Gachai emerged Overall winner at National Bank Golf Day after returning 39(21+18) stableford points. Francis Nabuk was second with 37(19+18) stableford points.
Away at Nakuru Golf Club, Ashok Patel won Mashujaa Day Golf Tournament with 39 stableford points. In second place was Rhamesh Khagram with 38 stableford points with Indraj Singh settling for third place with 38 stableford points.
Handicap 23 golfer from the Kenya Railways Golf Club, Irene Kimeu, carded a round of 41 points during her club's leg of the 2021 NCBA Golf Series to be crowned overall winner on Saturday.