Kenya Open: Ten things you didn't know about Okello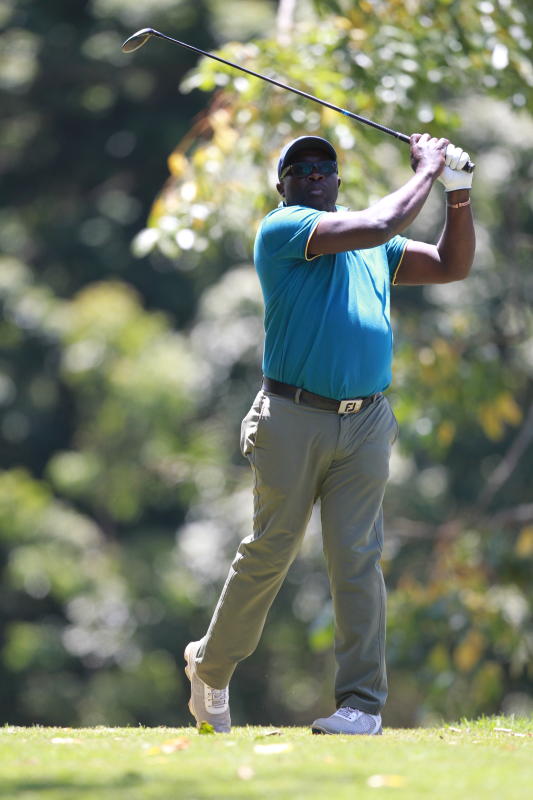 Legendary Kenyan golfer also is an accomplished chef, first tasted beer at age 35
The former Gor Mahia midfielder is optimistic that some of his students at Golf Park will make the cut and bag goodies pledged by Kenya Vision 2030.
Golf Park player Jacob Okello is the most decorated local golfer in the history of Magical Kenya Open.
The 52-year old will take to the pitch tomorrow to play against some of the students he has mentored at his Golf Park base.
His hope is that all will make the cut to bag the lucrative prizes on offer to the national team by the Kenya Vision 2030.
Below, Standard Sports takes a look at ten things you didn't know about this golf legend, who wrote history at the scenic Muthaiga Golf Club in Nairobi in 1998.
1. First tasted alcohol at age 35
Okello has been sober all through his life.
This is due to the strict upbringing by his parents especially his legendary father Ben who sharpened his golfing skills.
It was not until he hit 35 that Okello experimented with the bottle.
"It helped me to discover myself.
" I felt I was now free from everyone else. I was now mature enough to make informed decisions when it comes to drinking. I now drink but in moderation."
2.Smoking is not his portion
The player detests cigarettes. He neither takes bang nor shisha.
This is because he is asthmatic. "The medical condition has pushed me to be a fitness freak. I have to keep being fit to live," he said.
3.He's the son of "Kenya 1"
His father Ben is the most decorated golfer of all time in the country.
Popularly known as Kenya 1, Ben led Kenya to countless victories in South, East and Central Africa.
At 84, Ben is not slowing down any time soon, he still combs the greens and fairways like a teenager.
Ben is the only golfer in Africa to ever play for two countries (Kenya and Uganda) and captained both sides.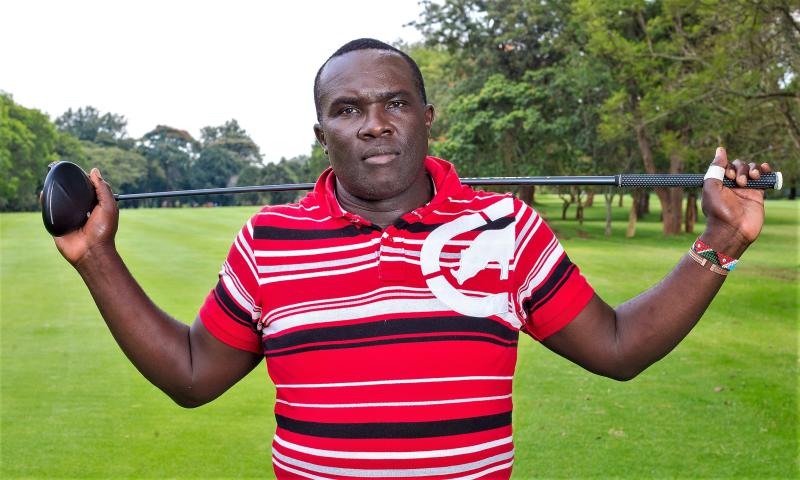 4. He was a dazzling Gor Mahia player
Okello was such a force to reckoned with while a student at Kakamega High School in the early '80s.
He had a grasp of almost all sports, from golf to volleyball, to football to athletics and basketball.
The desire to excel in them saw him contracted by the 19-time Kenyan Premier League champions.
He starred for K'Ogalo in the midfield alongside the late Abbas 'Zamalek' Magongo, George 'Nyangi' Odembo, who was also a student at Kakamega High, and his namesake David Okelo 'Zangi'.
Unfortunately, Okello's football dream ended abruptly while in Form Four when he broke his leg.
5.He's a chief chef
Okello has mastered fine culinary skills. He can do basic and complex cuisines.
This, he learnt from his father who was an hotelier in Kenya and Uganda.
"I cook everything, though I don't have a favourite meal.
"What I feel to eat on a particular day is what I cook."
6. First local to reach Magical Kenya Open final
Soft spoken Okello almost brought the pristine Muthaiga Golf Club down 23 years ago.
This was after he stormed the final where he tied on points against Ricardo Gonzalez of Argentina.
Since the event was a winner takes it all, they were subjected to the sudden death play-off where he lost to the visitor.
"I have never regretted not winning the elusive trophy for Kenya. I believe someone better than me will one day deliver the cup home," he said.
7.Tiger Woods not his role model
"I'm older than Woods so definetly he can't be my role model. I can mentor him," he said.
Okello looks upto a crop of older generation of golfers for inspiration and they include Jack Nicklaus (USA), Greg Norman (Australia) and the late Seve Ballesteros (Spain) who are all former world beaters.
8. Mercedes is his dream car
The father of two currently drives a Subaru, which he describes as an outback car with power and speed.
But the "Luo" in him secretly wants a Mercedes Benz which he describes as his dream car.
"Every capable Luo should own this machine before they depart to their maker.
"I look forward to being a proprietor soon," he stated.
9.Has adopted a child
Okello is married and has two kids. They decided to adopt his sister in law's kid when she passed away. Adopting has taught him vital lessons on humanity.
"Make sure you make someone happy if you can."
10.He's very patient
Okello is a gentle giant. His patience can be seen through the number of golfers he trains and mentors at his base in Golf Park, Ngong Race Course. The fruits of his labour is already out as three of his mentees have all punched tickets to the Kenya Open and Savannah Classic.
They are Erick Ooko, David Wakhu and Toni Omuli. "It feels great to compete against your students at the global stage, I look forward to seeing them replicate the lessons we learn at Golf Park in Karen."
Kenyan players for the 2021 Magical Kenya Open
1.Dismas Indiza -Mumias
2.Greg Snow- Muthaiga
3.Simon Ngige-Thika SC
4.Erick Ooko-Golf Park
5.C.J Wangai- Sigona
6.Samuel Njoroge- Railway
7.Jastas Madoya-GRV
8.Riz Charania- Windsor
9.Mathew Omondi- Vet Lab
10.Jacob Okello- Golf Park.
11.David Wakhu- Golf Park
12.Edwin Inana Mudanyi- Vet Lab
13.Toni Omuli- Golf Park