Mark Kirimi wins during Britam series in Nyeri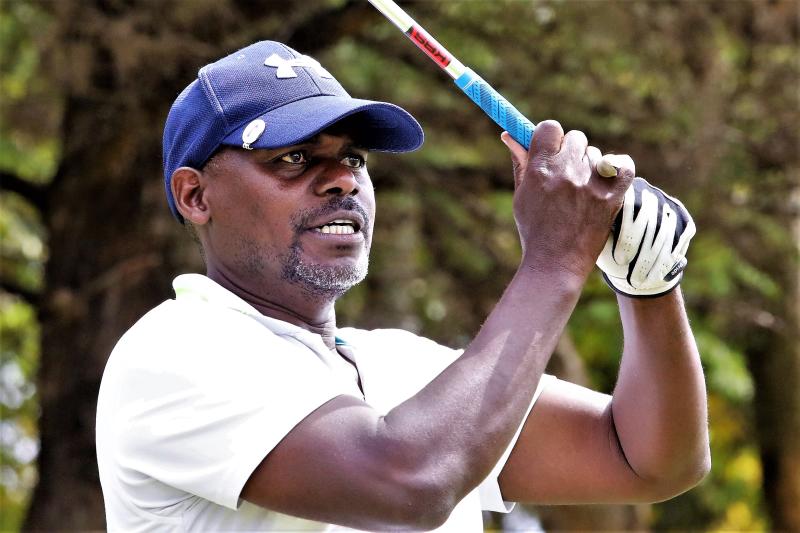 Out to prove a point, Mark Kirimi shot a sterling round total of 45 stableford points to win the Britam Golf series in Nyeri over the weekend.
Kirimi, who is a member of Nanyuki Sports Club, returned a solid score of 45 stableford points to triumph during the tournament at the par-72 Nyeri Club course.
After missing out on a podium finish in February during the Monday Blues golf tournament, Kirimi, who was playing of handicap 12, knew he had little room for any mistakes.
He knew that only a score of 40 stableford points or better would do the trick for him.
On the outward Nine, Kirimi set off on a birdie hunting spree where he managed a single birdie, five pars and three bogeys for 22 stableford points.
After the midway mark, Kirimi picked a birdie on the 10th, a par-four and followed it up with a second birdie on the par-three 11th hole.
He then parred the third after missing out a birdie putt on the par-five 12th hole.
On the course's toughest hole, stroke index-one 13th, he made an easy par after he found the green on three and holed out a 14-foot left-to-right downhill putt. He then bogeyed the 14th hole, a par-four.
Descending on the course's signature hole, "Kerio Valley" a par-five, Kirimi found the fairway 210-yards to the green.
He struck a full 6-iron downhill but went wild with a bad kick off the green. The player then chipped back on and single putted for par after which he bogeyed the 16th hole, a par-four.
On the 17th hole, Kirimi sliced his tee-shot to the right while attempting the Longest Drive Men contest, ending up into the shallow rough from where he was well-out onto the fairway.
"I had a beef to pick with the Nyeri course after I failed to win during Monday Blues Golf Day. I knew I had to play better," Kirimi said.
Handicap 20 Charles Wanjau was Men winner on a score of 36 (18+18) stableford points with Sam Muchiri of Nanyuki Sports Club taking Men winner prize second on a score of 38 (18+17) stableford points.
In the ladies' category, Nyeri Club Lady vice-captain, handicap 26 Regina Mumero claimed the bragging rights on a score of 40 (20+20) stableford points. as Rose Komu playing off handicap 26 took Lady winner second prize on a score of 37(19+18) stableford points.
In the Nines, Dr Njuguna to the First Nine with 21 stableford points with suave, Eddie Karumwa, winning the Second Nine prize on a similar score of 21 points. +2 Peter Rimui of Nanyuki was Gross winner with 36 Gross.
In the commercials, Charles Wanjau won Longest Drive Men as Kaititia Tekenet won in the ladies category.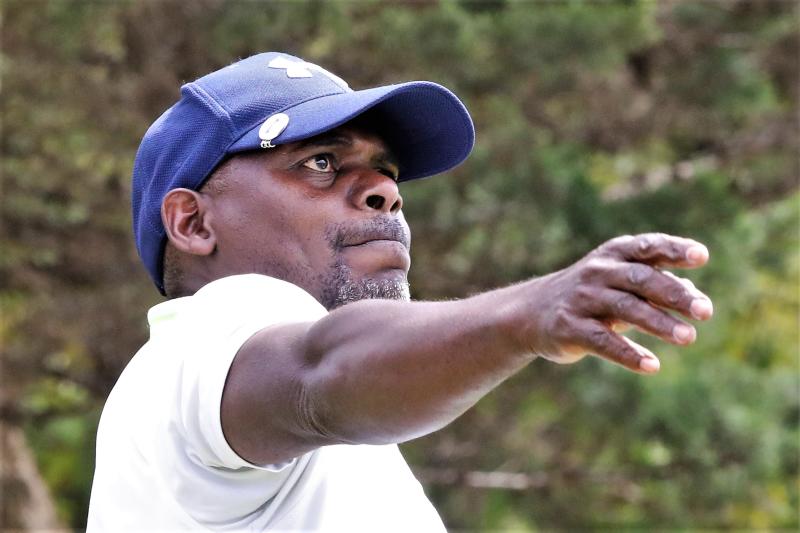 Mark Kirimi scored a double as he took Nearest to Pin Men prize with Senior Winner prize going to SWN Githitu on a score of 38(17+21) stableford points. Rachel Karuri won in the Division 2 on a score of 38(20+18) stableford points.
'I would like to thank all the golfers who participated in our event today, its an opportunity for them to sharpen their golfing skills' said Annie Kinuthia, Head of corporate communications, Britam
Away at Ruiru Sports Club, Dr Terra Saidimu playing off handicap 28, terrorized the 18 hole course returning a score of 43 (22+21) stableford points to win Captain (Thomas Mwaura) Prize 2021.
Saidimu carded 22 stableford points on the front nine and an additional 21 stableford points on the back nine to prevail over a field of 278 golfers who participated.
Handicap 24, Paul Kimani was the Man winner on a score of 38 (20+18) stableford points. Handicap 11, Joseph Boro was second on a score of 37(19+18) stableford points with George Keru settling for Men winner third on a score of 35(17+18) stableford points.
Donning the Ladies medal on a score of 39(17+22) stableford points, was handicap 23, Sophie Mbochi. In second place was handicap 31, Salome Mwaura with 37(18+19) stableford points with handicap 24, Esther Mworia, coming in third with 35(18+17) stableford points.
Taking the First Nine was handicap 18, Joseph Ndome with 19 stableford points as Martin Weru claimed the Second Nine with 21 stableford points.
Guest Men winner prize went to a handicap 17, John Mwendia on a score of 34 stableford points. Handicap 36, Christine Maina won Guest Lady winner prize on a score of 28(15+13) stableford points.
Scratch golfer Chris Andrea won the Gross prize on 76 Gross.
In the Sponsors category, CIC sponsor prize went to Joseph Kamiri playing off handicap 17. KPC Sponsor prize was won by a handicap 8, Ken Nyangaga with Family Bank Sponsor prize being won by Ndungu Mucane on a score of 32(14+18) stableford points.
Longest Drive Men Prize went to a Johnson Weru. With Salome Mwaura winning in the Ladies category.
Nearest to the Pin Men winner prize went to John Gitau as Veronica Mwaura won Nearest to Pin Lady winner prize.