At 52, Indiza still swinging like a real champion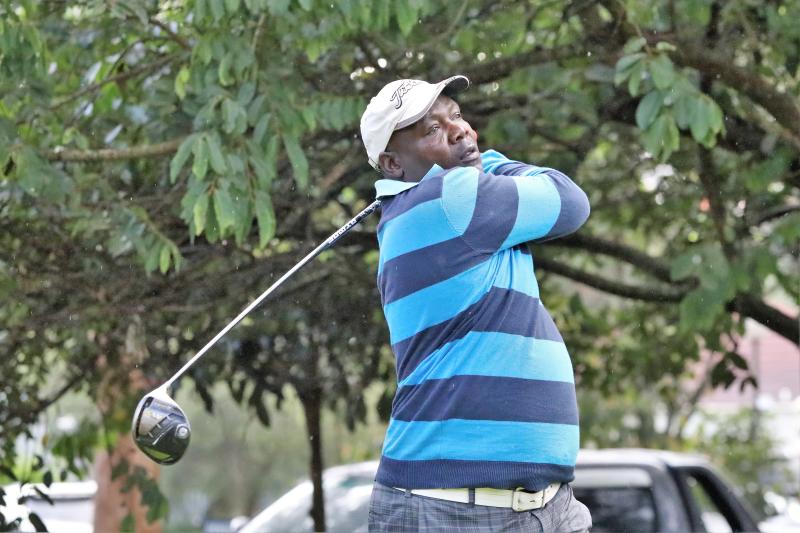 Veteran Dismas Indiza will be banking on his 22-year experience to register a superb performance at Magical Kenya Open 2021 set for next month.
The 52-year-old will be relying on his lifelong dalliance with the game of golf having started playing in Nandi Bears at the age of 10 years.
Known for his long shots off the deck, "Mzee wa Kazi" has only missed taking part in the Kenya Open once, in 2008, after he was involved in a road accident.
Currently, the self styled golfing "squatter" has made golf courses in Nairobi his training bases since Mumias Sports Club, his home course, was rendered unplayable.
Indiza has remained unfazed after his 10-year sponsorship deal with Mumias Sugar Company came to an end after the sugar processor plunged into financial problems.
Under Mumias sponsorship package, which ran into millions of shillings, Indiza won the Nigeria Open in 2010 and Zimbabwe Open. He also participated in Vodacom Open in 2014 where he made the cut.
Indiza is hopeful that Johnnie Walker, which was sponsoring his fellow pro Greg Snow of Muthaiga Golf Club before pulling out last year due to Covid-19 pandemic, will renew their deal with them ahead of the Magical Kenya Open.
According to Indiza, the biggest impediment to lacklustre performance by Kenyan professional golfers is lack of sponsorship.
"One of the reasons why youngsters and older golfers on the local tour can't perform well is the because they create extra revenue streams for themselves by offering training for amateur golfers and that messes up their personal game," said Indiza.
"Have you ever seen Tiger Woods or any other Tour player offering teaching lessons. No!! Youngsters should just focus on golf to play better."
With the last Safari Tour event set for next week at Karen Country Club, the same venue for Magical Kenya Open, Indiza is taking it easy with no specific target scores to work with.