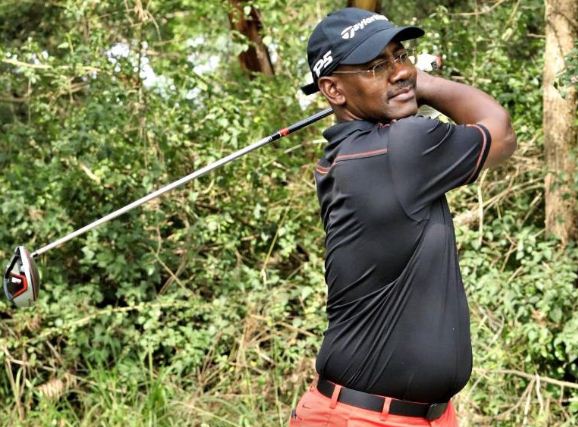 Royal Nairobi golfer Kiplagat Chebii triumphed in the King of the Course Year Opener golf tournament at the par-72 Machakos Sports Club course over the weekend.
It was a sweet victory for Chebii, last year's King of the Course Guest winner on a score of 38 stableford points. After losing out to eventual 2020 Overall winner James Ndunda by a single point.
The King of the Course Year Opener series now in its 16th year was presented by ICEA LION Group in association with Machako's Gelian Hotel.
After the corporate year opener meet in Machakos, the series heads to Thika Greens Golf Resort next week on Friday for the Clubnite and second corporate tournament at Ruiru Sports Club the on Saturday. Thereafter, action heads on to Nanyuki Sport Club, Nandi Bears and finally Nyali Country Club.
The 148 golfers at the Machakos tournament were drawn from Royal Nairobi Golf Club, Nanyuki Sports Club, Nyeri Golf Club and Mombasa Sports Club.
Others were from Vet Lab Sports Club, Muthaiga Golf Club, Limuru Country Club, Ruiru Sports Club, Thika Sports Club and Golf Park, among others.
Notable absentees were 20 Malawian golfers, who participated in three series last year due to Covid-19 related travel challenges.
King of the Course convenors seek to grow the series into a premier amateur open golfing event.
With a resolve to play better, Chebii had a fantastic round of 18 despite the course playing tough with the difficult green conditions complicating issues for most home and visiting golfers.
Playing off handicap 16, Chebii was on fire from the onset returning to the club house with a compact score of 24 stableford points on his outward nine.
His good score was made up of seven pars that he inked on the par-five first, par-three second, par-four third, par-four fifth holes.
Other pars were on the par-four sixth, par-three eight and the ninth; a par-five.
Chebii also picked four more pars on his inward nine from the par-five 10th, par-three 11th, par-four 14th and the homestretch par-five 18th holes.
He got his bogeys on the par-four fourth and par-four seventh a stroke index one, with three others on the par-four 12th, par-four 15th and par-four 16th holes.
He blanked the par-four 13th and par-three 17th holes to wind up his back nine with an additional 17 stableford points for a total score of 41 stableford points.
"I made good my intentions and it's a fantastic feeling. I played well off the deck and my midgame was equally nice and so was my short game, apart from the greens, which were a bit difficult." said Chebii
Speaking during the prize giving dinner, ICEA Lion Group General Insurance Chief Executive Officer Paul Muthaura lauded the club's management for the impeccable course condition, warm ambience of the club and it's membership.
"We would like to continue growing the Course series," said Muthaura.
"As King of the financial services jungle, ICEA Lion Group, is committed to the growth of King of the Course golf series as we develop a lasting relationship through the sport with our clients. While churning out innovative products that our customers will enjoy too." he added
As if to confirm his win, the skies opened up in the evening with heavy showers which made most of the last teams to abandon play and seek shelter from the downpour.
Eight twos were registered by; Mwongeli Nzioka on hole 2, William Muturi on hole 8 and 11. Charles Kamuti on hole 11, James Ndiangoi on hole 11, Nathan Brown on hole 17 and B Oketch on hole 17. To win 15 golf balls each.