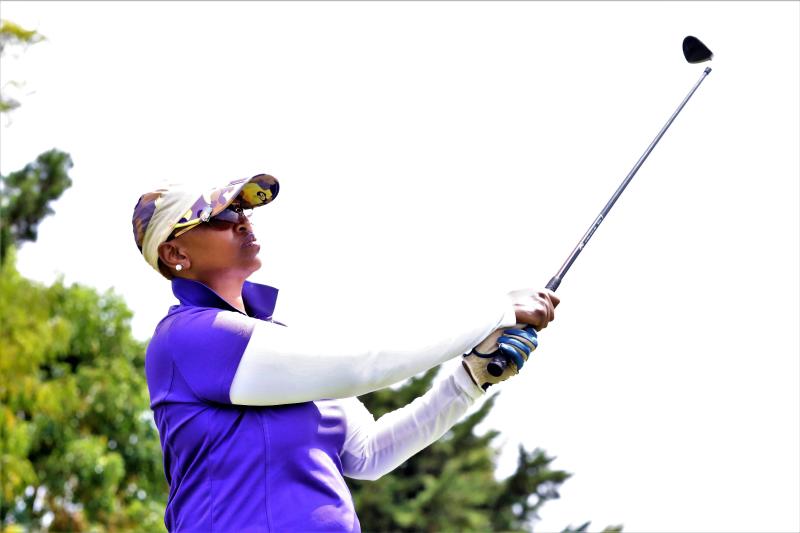 Postal Corporation of Kenya to sponsor Mount Kenya Championship next year
It's New Year's gift for Janes as she wins Mug of Mugs in Nyeri on 69nett.
It was a classic year-ending win for Jane Munyiori on winning Nyeri Golf Club's Mug of Mugs over the weekend.
Playing off handicap 24, Munyori returned to the clubhouse with a sterling score of 69 nett to secure the bragging rights in style ahead of a field of 63 golfers.
The stylish Munyori fired 37 nett on her front nine with an additional 32 nett from her back nine to claim the silverware after a long run without a win.
She attributed her win to a strong team that included Daniel Weru playing off handicap 5 and Khillan Shah playing off handicap 10 who made Munyori bring out her A-game. For her remarkable showing, Munyori's handicap dropped from 24 down to handicap 22
"I played alongside a tough team of good and seasoned golfers. Seeing them execute good shots made me equally play well and I'm glad to end the year with such a win," said Munyori
Loosing on countback to Munyori's better back nine to take overall second place, was handicap 12, George Muraguri who fired a similar score of 69 nett after combining 33 and 36.
In third place was handicap 9, Dan Kagwe who posted the best Gross score for the day at (35,35) 70 nett. Taking overall fourth was Angelo Nderi, who carded (34,37) 71 nett to trail Kagwe by a stroke.
Kagwe, who is also the Postmaster General announced that Postal Corporation of Kenya will be the main sponsors of Kenya Golf Union sanctioned Kenya Amateur Golf Championship 2021 second event — Mount Kenya Championship slated for February 6-7, next year.
Paul Sang playing off handicap 21 settled for overall winner fifth on a level score of (36,36) 72nett. Senior golfer Baldev Singh playing off handicap 14 was sixth on (35, 38) 73nett with James Nderitu taking overall seventh with (35,38) 73nett.
Three twos were registered during the tournament by George Muraguri on hole number two, Richard Kabuthi on hole number 11 and Dan Kagwe on hole number 18 with each one of them winning 20 golf balls.
At Ruiru Sports Club, Dixon Waruringe playing off handicap 21 fired a round total of 61nett to win Christmas Eve Clubnite tournament presented by Paul Kamau and Friends of Vice-Captain.
In second place was handicap 37 Patrick Kiogorawho carded 66nett. Anthony Kamau "Tosh" playing off handicap 19 was third with 68nett.
At Kakamega Sports Club, B Shikuku was crowned the winner of the December Monthly Mug after posting 71nett playing off handicap 23.
Taking second prize on 73nett was G Ombito playing off handicap 12 as L Luchivya settled for winner third prize with 74nett.