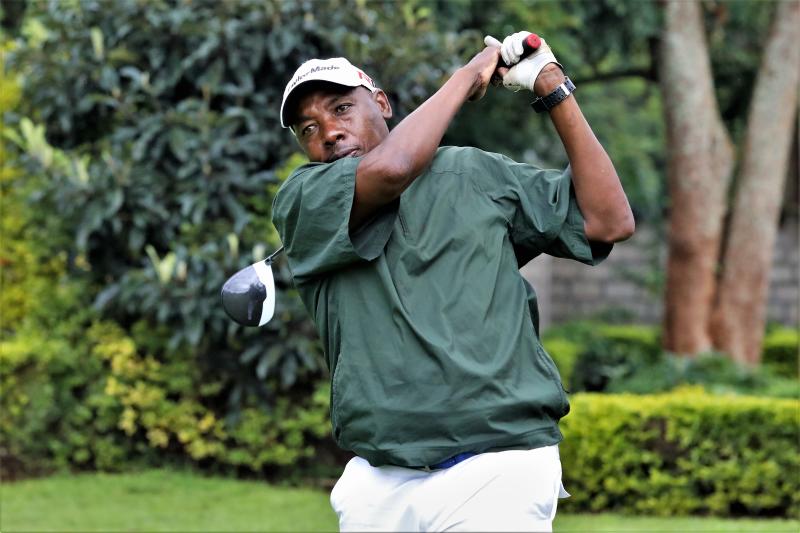 Munge Karoki engineered his way to victory at Thika Sports Club during the 24th edition of Annual Engineers Golf Day played at the par-72 course over the weekend.
Karoki had an even golf outing on the course returning a commendable score of 37 stableford points to triumph over a field of 164 golfers.
On his outward nine, Karoki set-off with a birdie on the opener (par-five), parred the second (par-four) before dropping shots on the next two holes — par-four third and the par-three fourth.
He then recovered on the par-four fifth with a par. Bogeyed the par-three sixth before sinking two consecutive pars on the par-four seventh and eighth holes and wound up his front nine with a No-Return on the par-five ninth hole to secure 19 stableford points as he refocused on a cautious approach going into the inward nine.
Playing off handicap 11, Karoki picked a bogey on the 10th, a par-five. He parred the 11th (a par-three) before bogeying the 12th — a par-four.
Things looked up for Karoki , momentarily, on the next three holes where he registered three successive pars on the 13th, a par-four, 14th a par-four and 15th a par-five.
He lost steam on the par-five 16th from where he picked a bogey before crumbling on the par-four 17th, where he earned a double-bogey and wound up his round of 18th with a bogey as he finished with an additional 18 stableford points for a round total of 37.
Hot in Karoki's pursuit was handicap 6, Simon Ngugi who posted a score of 36 (17+19) stableford points to claim Men winner's prize. In third place was handicap 16 Wanjau Gathuri on a score of 35(15+20) stableford points.
Judy Waihenya won the Ladies gong on a score of 32(16+16) stableford points as Rose Kang'ethe playing off handicap 25 settled for Lady winner second prizw on a score of 32(19+13) stableford points.
In the Sponsor's category; handicap 7, E.N. Ndung'u bagged the top prize on a score of 34(15+19) stableford points. Sponsor runner-up prize went to A.K. Kioi playing off handicap 18 on a score of 34(21+13) stableford points.
Gross winner prize was won by a handicap 7 Simon Ndung'u on 28 gross points.
In the Guest category, Limuru Country Club's F.N. Ndegwa emerged Best Guest golfer on a score of 31(18+13) stableford points. Handicap 39 Dylan Munikah bagged Junior prize on a score of 39 (16+23) stableford points.