David Wakhu shakes off elbow injury to lift Sigona trophy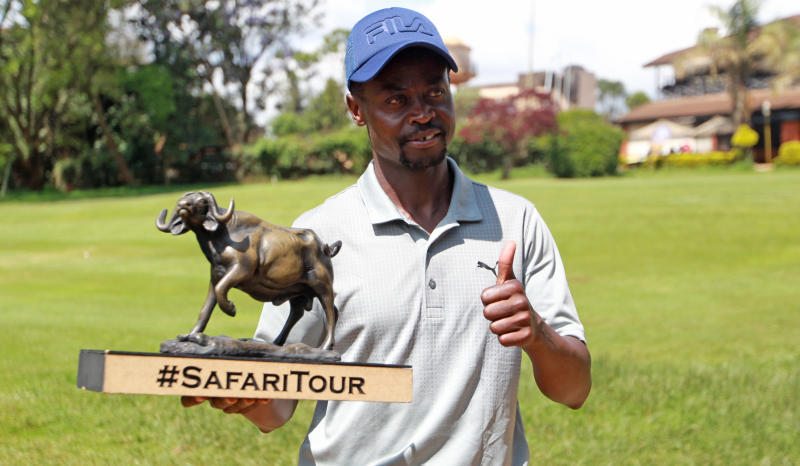 Golf Park's finest David Wakhu is the winner of the fourth leg of 2020/21 Safari Tour series.
The long hitter overcame stiff competition from Mumias-based Dismas Indiza, Vet Lab's Edwin Mudanyi and Erick Ooko of Golf Park, who were all joint second, to carry the day with total four rounds of one under par 287 on the final day of the tournament, at the par 72 Sigona Golf Club, yesterday.
"This is an emotional victory for me. I thank everyone who cheered me on, especially my golf student Susan Munyori. She got me one of the best physiotherapists in town and paid the bill," said Wakhu.
"I would not have won this tournament with a bruised elbow and a nagging heel pain that has hindered my performance this season," Wakhu said.
The 36-year-old started the nervy final round at Sigona with an impressive birdie in the first hole.
"This gave me confidence against my batch members who also had their eyes on the prize. We all started round on two under par each. It was an open game. It was for everyone to lose," he said.
Wakhu ended the first nine with another birdie in the ninth hole. He played better in the back nine where he sunk a birdie in the 10th hole.
"There was a lot of tension among the players but I remained focused," he said.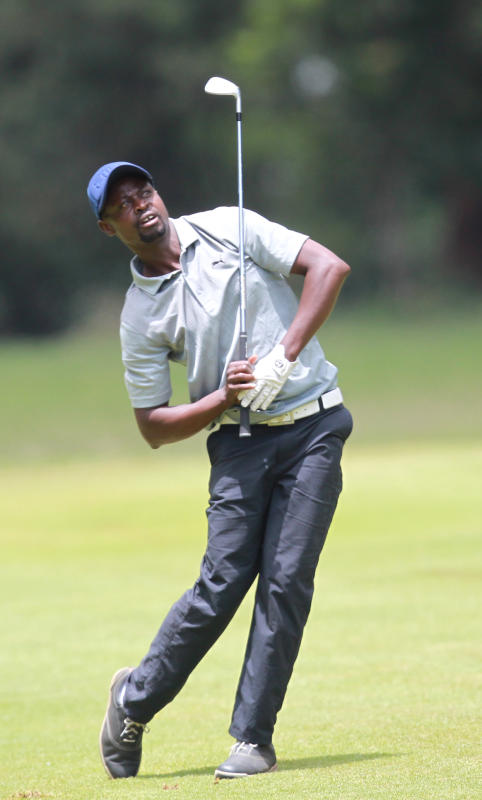 This is Wakhu's second victory in the circuit, now in its third year.
His first win was in the opening leg of the first edition in Nyali, Mombasa, in 2018.
Jovial Ooko raked birdies in the fourth, sixth, ninth, 15th and 18th holes to finish second, a joint tie with Indiza and Mudanyi on two over par 290 each.
It was the second time Ooko was coming close to lifting the trophy in the series, his first being at Royal Nairobi Golf Club where he finished in a similar position last year.
"I played the front nine better but struggled in the back due to lack of concentration," Ooko admitted.
"I want to thank Robert Keter of Karen Golf and Country Club for believing and supporting my golf. This is the reason I'm in top two today," he added.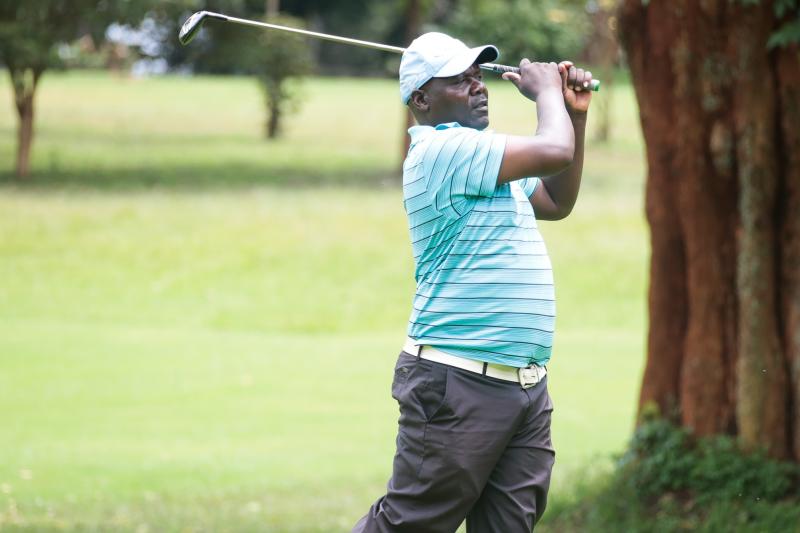 Ooko was happy with the support he's been receiving from Golf Park's Covid -19 Team, which has been sponsoring the club's pros, who are taking part in the Safari Series.
"I came to play in Sigona with a clear mind. I had no worries of meeting my bills. I promise to do better in the coming legs," the 33-year-old father of two said.
Indiza, the winner of Vet Lab's leg last Wednesday, was rather disappointed with his second place tie. The 52-year-old blamed his woes on his puttings that saw him drop crucial shots, denying him the overall victory.
On his part, Mudanyi was happy with his improvement in the tournament.
"I was third at Vet Lab and now I'm second at Sigona. This shows I'm headed towards victory," Mudanyi said. The 26-year-old youthful player said their joint tie in second place was a healthy competition for the series, which heads to Uganda in November.