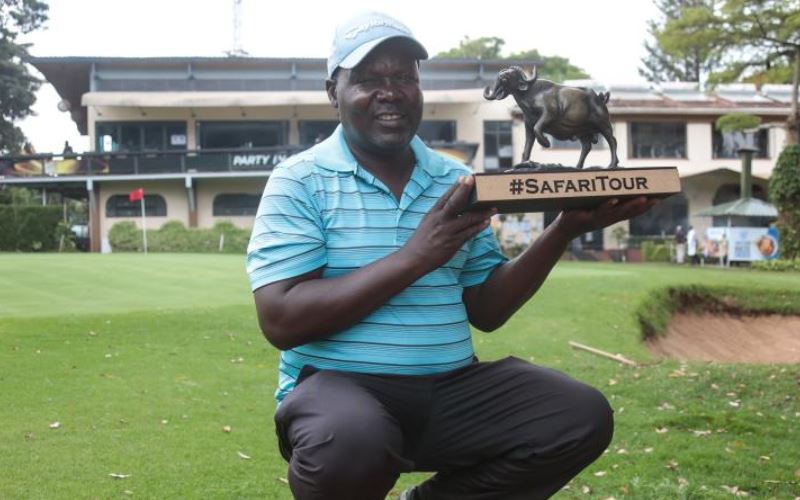 Mumias golfer Dismas Indiza repelled strong opposition from Zimbabwean Robson Chinhoi to win the third leg of 2020/21 Safari Tour at Vet Lab Sports Club in Nairobi yesterday.
The 52-year old father of six braved the foggy weather to score one over par 73 for total four rounds of four under par 284 to lift the trophy.
Indiza started the day off with a four-shot lead against a resilient Chinhoi.
He birdied in the first and eighth holes in the front nine. Back nine was much tougher as he scored a birdie in the 14th only.
"The final race was tight, there was too much pressure in my batch that also had Muthaiga player Greg Snow who is another worthy opponent," Indiza said.
The feat saw Indiza bag Sh150,000 including bonuses.
The win could not have come at a better time for the veteran player who has struggled to make ends meet during this that Covid-19 has disrupted sports.
"I used to work as Mumias Golf Club green-keeper, but I lost my job when the sugar firm went under. I have been jobless for years now.
"I only depend on the game for survival so it's been pretty tough for my family since the Covid-19 lockdown was announced in the country in March," he said.
"It's been hard putting up in Nairobi for the three tournaments we have had so far this season, leave alone securing a course for my practices. So I'm grateful for this victory because the money will help me to secure transport and accommodation as we head for the fourth and fifth legs in Sigona and Uganda," he said.
Ahead of Sigona event that tees off on Sunday, Indiza plans to play more rounds of golf to sharpen his skills and gain stamina.
"I started this edition while a bit rusty because I did not have a range to practice back in Mumias but my fitness has improved with the back to back contests we've had in the series," he highlighted.
Apart from the Vet Lab victory, Indiza won the Serena (Uganda) and the Great Rift Valley Lodge (Naivasha) contests in the last edition.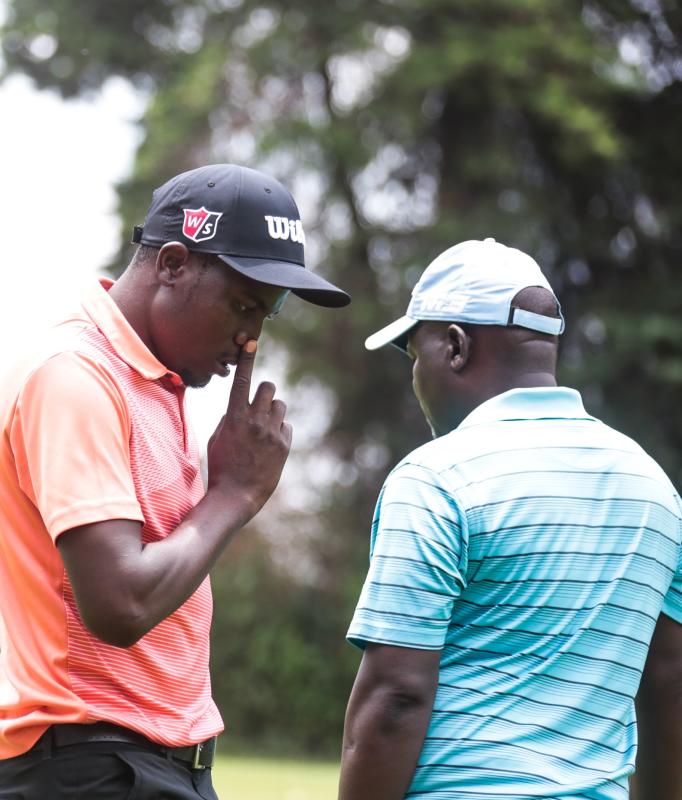 Soft spoken Chinhoi was left disappointed after he failed to dislodge Indiza from the leader-board.
"I tried my best but this event was for Indiza to lose," the Zimbabwean said.
The 29-year old gave Indiza a run for his money, raking birdies in the fourth, fifth, 13th and 15th holes to narrow the overall gap to two shots.
"I would have done better if the pin positions were in decent places on the greens.
"Their crazy locations made the course tougher," Chinhoi said.
This is the fifth time that Chinhoi has finished second in the series with his best-ever performance at Royal Nairobi Golf Club which he won last week.
"I don't see the second-place finish as a jinx, but as an indication that I'm going to lift more trophies in the circuit.
"I'm going to work on my putting ahead of Sigona leg because it cost me crucial shots in this tournament," Chinhoi said.
Edwin Azusa of Vet Lab was the surprise of the day. He was third after Snow's torrid performance in hole 15.