With title within sight, it's all-out war for hard-hitting Dismas Indiza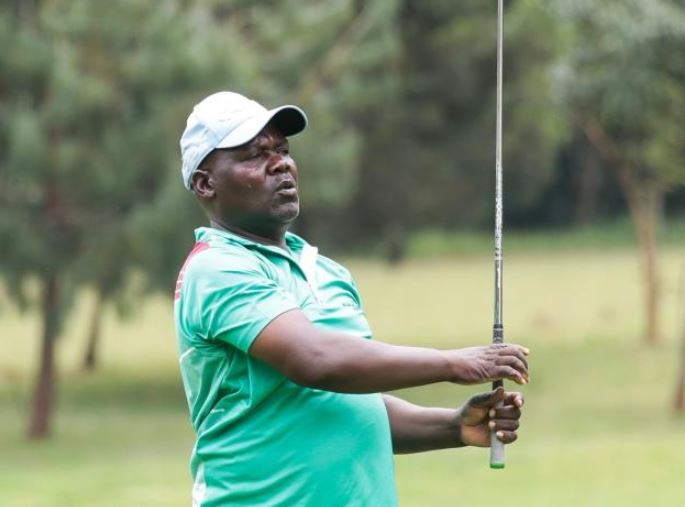 Hard-hitting Dismas Indiza fired one over par 73 to extend his lead on day three of the 2020/21 Safari Tour Series at Vet Lab Golf Club in Kabete, yesterday.
The 52-year-old, who is commanding the leader-board, ended the rain-soaked day on total three rounds of five under par 211.
"I worked hard in the first two days to stretch the gap. I'm now edging my opponents with experience," said the veteran, who boasts over 30 years of experience.
Starting off with a six-shot advantage in the cold weather, Indiza birdied in par four hole four and par five hole five in the front nine, which he cleared with a one over par gross.
"The game was a bit tough, I hit awkward shots that diverted right into the trees, but I'm glad none of them went out of bounds," he said.
As the tournament heads to the final round this morning, Indiza admits he is under pressure to maintain the margin as he eyes the title.
"My biggest challenge is to hold on to the lead. I'm going to work on my tees and the second shots, of course not forgetting my chips even though my putts are perfect," he underlined.
Apart from looking forward to qualifying for the prestigious Magical Kenya Open slated for Karen Golf and Country Club in Nairobi next March, Indiza is using the circuit to step up his fitness ahead of the Senior Tour Championships to be held in USA, next year.
Robson Chinhoi of Zimbabwe scored one under par 71 for total three rounds of one under par 215 to finish second behind Indiza.
The Royal Harare Golf Club player blamed the chilly weather for his not-so-impressive show.
"It drizzled in the morning and the fairways were soggy, hence I couldn't tackle the muddy course," he said.
Chinhoi said he failed to make the right decision in the par three hole 16 which he bogeyed, costing him three crucial shots.
"I was in a rush. I could have easily narrowed the gap between me and Indiza had I been more cautious."
Despite being upset with his form at Vet Lab, Chinhoi, who won the series second leg at Royal Nairobi Golf Club last week, has hopes of dislodging the man from Mumias from the top.
"I will try and be patient with my shots. I will keep the balls rolling on the greens as I attempt to play regulations," Chinhoi said.
Since lifting the opening leg in Limuru the other week, Muthaiga Golf Club's sensation Greg Snow has found it hard to return back to the top of the charts in the last two legs.
He hopes the moral support he is receiving from his parents John and Bibiana will motivate him this morning as he seeks to rake in better scores.
"I had plenty of birdies in the first nine but was disappointed with my game in the second nine," Snow said after ending round three on one over par 217.
"My putts and strokes are fine. I'm looking forward to register a low score in day four," he added.
Vet Labs' Nelson Simwa had hopes of winning the contest being played at his home turf, but he has already given up from eclipsing the blazing Indiza, who is unrelenting in his pursuit for glory.
"The last two days have been bad for me, especially today. I did not score any birdie. I'm now targeting a top five finish," said Simwa.
Simwa's elder brother Boniface is, however, happy with his progress after he made it into the money bracket.
This shows that my game is developing well, I look forward to do better in the next challenge at Sigona next week," Boniface stated.
Boniface was initially a member of the Eldoret Golf Club but changed course to Vet Lab when he moved to the city in April.
He's so far happy with the developments made by local players in the series.
"The back to back tournaments are helping the golfers to develop skills and gain stamina needed to handle the challenging Kenya Open," he said. [Ochieng Oyugi]