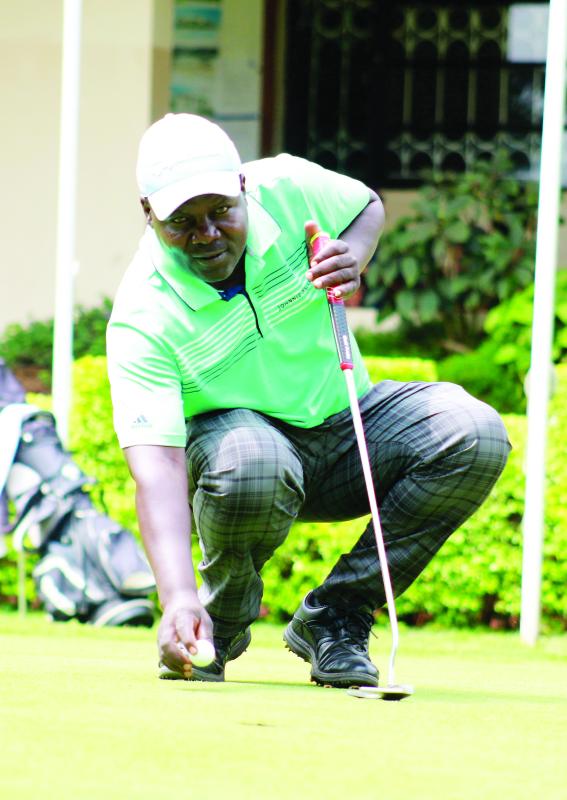 Mumias-based pro-Dismas Indiza hit four under par 68 to widen the lead after day two of the ongoing 2020/21 Safari Tour golf series at Vet Lab Golf Club, in Kabete, yesterday.
The veteran hard-hitter, who now leads the pack on total two rounds of six-under-par 138, braved a chilly morning to begin his campaign with a birdie in the opening hole.
"I worked on my tees and my second shots were better. I ensured they rolled in place," he said.
Indiza had level pars in the next four holes before sinking another birdie in the par three hole six.
The 52-year old had a priceless moment in the par five hole seven where he raked in an eagle before sealing the rest with level pars to complete his first nine on four under par gross.
"This is the second time I'm scoring an eagle in the course and I'm grateful. They have really boosted my score and increased my chances of lifting the trophy," he said.
On back nine, Indiza started badly in hole 10, where he double bogeyed. He directed his shot to the right of the pin, which was blocked by the trees.
"It was difficult returning the ball to the greens. I hit the trees twice," he said.
He then registered birdies in the 12th and 14th holes before ending the rest of the back nine on level pars.
Indiza plans to guard his top place on the leader-board as the tournament heads to the penultimate stage today morning.
"I'll keep my cool and will need to be patient with my putts. I'm also aware that the pin positions are tricky, but I'll know how to tackle that challenge," he said.
Indiza started the season badly, failing to make the cut in the opening leg in Limuru before finishing 15th in the second leg at Royal in Nairobi last week.
Vet Lab's Nelson Simwa, who had commanded the charts with Indiza on Sunday, was not at his best as his balls went out of bounds, ending the day in fourth place on two over par 145.
Muthaiga Golf Club's sensation Greg Snow, who bagged five legs last season, worked hard to return to third on one over par 145.
Robson Chinhoi of Royal Harare Golf Club finished second after playing level par as he promised Kenyan players tough times in the remaining rounds.
Injured David Wakhu of Golf Park struggled with his wedges on the pitch but also made it into the money bracket.
He is still attending physiotherapy sessions to heal his elbow wound, which seems to be slowing his game.
"I have one more appointment with the doctor tomorrow. All will be well next week as we head to Sigona," Wakhu said.
Vet Lab's Robinson Owiti, who had torrid moments on the fairways, said he seeks to have adequate rest before the Sigona event.
"I think I'm burnt out. I will have to charge my batteries before the next tournament," he said.
Felix Khalakai of Railways withdrew in hole 11 to seek treatment after complaining of being unwell.
He's the second player to leave the Vet Lab so far after Thika Greens Kopan Timbe threw in the towel on Sunday.
David Opati of Windsor is also out with a hand injury.