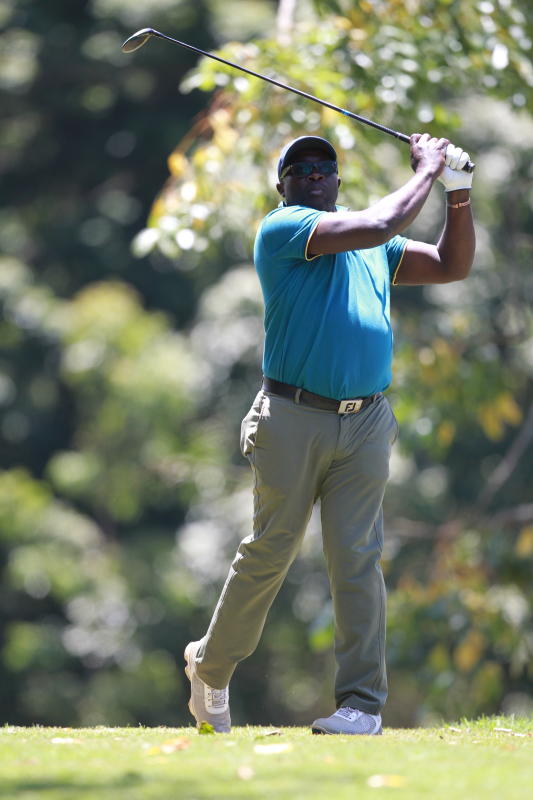 Njoroge rules day two of Safari Tour
Mumias veteran Indiza among top players who fell by wayside.
Railways Golf Club hard-hitter Samuel Njoroge triumphed in day two as Muthaiga's Ganeev Giddie ruled the leader board at the ongoing 2020/21 Safari Tour opening leg in Limuru yesterday.
Njoroge scored four under par 68 to make the cut with an overall 144 gross.
The Nyali Open champion had 33 strokes in the front nine and 35 in the back to improve his dull result.
"I played badly on the first day, but I went ahead to better that performance today. I'm happy."
"I worked on my puttings that were terrible and I'm glad it bore fruits," the Sigona Bowl champion told Standard Sports.
The 25 year-old blamed his four over par record on lack of focus.
He now warns that nothing will stop him from winning the leg as they head for the third round at the pristine course this morning.
"I'm not going to blame anything if I don't win the tournament, because the fairways are great and the course and greens are in good shape," he said.
"I just have to work on my mindset to achieve the needed victory," the Mt. Kenya Open champion said.
"For me to qualify for the Magical Kenya Open next year, I'll have to win three or four legs in the circuit."
The reigning Kenya Amateur Strokeplay champion hopes to improve on his Kenya Open result, should he make the cut for the prestigious European Tour event slated for Karen Golf and Country Club in Nairobi in March, next year.
He missed to proceed to day three by two points in the 2019 edition held at the palatial venue.
Back in Limuru, Njoroge was closely followed by Thika Greens finest, Kopan Timbe, who combed the fairways to end the day with an impressive three under par 69.
Timbe had experienced difficulties on the pitch on the opening day he recorded five over par 77.
"I was late at the course and went ahead to lose the ball in the first hole, this disoriented my game," the father of two said.
"I ensured this did not happen today as I was calm and collected. I also took time with my tees and putts and it paid off," Timbe said.
Timbe was the last inclusion in the Team Kenya squad for this year's Open, which was later cancelled due to the Covid-19 pandemic.
He says he is out to win all the legs in the Safari Tour series to make the cut again for next year.
"I'm still struggling with my fitness as I was not training at all," he said.
"But I thank Kenya Open Golf Limited for giving us back to back contests in this series that will run for four weeks."
"I believe this is going to help us improve our game," Timbe added.
While others were celebrating their hard-earned cuts to the third round of the Limuru event, Mumias-based veteran golfer Dismas Indiza was counting his losses.
Indiza had torrid moments on the pitch as his putts, chips and tees were off the grid.
"I tried my best, I really tried but nothing came out positive. I'm just frustrated," Indiza lamented.
The veteran player, who has won most trophies in the previous editions, had a three over par on the opening day and a seven over par yesterday.
He blamed his off form on lack of better facilities to train as his base in Mumias is dilapidated.
"Mumias Golf Club is no longer usable and the only thing you can do there is hit the range as the greens have been overtaken by weeds."
"Because of this, I had a hard time practising ahead of this tournament. I hope to catch up when we proceed for round two at Royal Nairobi Golf Club next week."
"I appeal to any sponsor to come forward and support me so that I can hold my trainings in fine courses in Nairobi ahead of competitions," said Indiza.
Railways Club based Alfred Nandwa also failed to make the cut due to lack of fitness.
He has been out of the game for seven months and this has taken toll on his swings.
"Today I played one of the worst golf in my whole career. I totally lacked concentration," noted Nandwa after he ended the day with a nine over par.
"The fact that we are not using caddies in this tournament also took toll on me as I generally felt tired after moving around with the heavy golf bag while playing."
Giddie leads the Limuru board with 141 gross.