Hold it, it's not yet time for the swing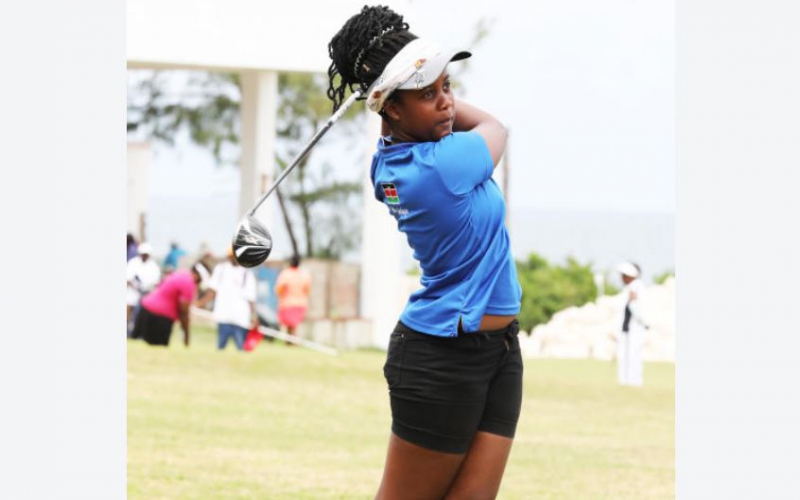 Golfer are strutting the fairways after a four-month break, thanks to the Covid-19 pandemic that gave the sporting family a forced leave since March, this year.
In its wake, a raft of measures were put in place by golf clubs as well as the sport's governing body, Kenya Golf Union KGU, which suspended handicaps.
This in essence, meant that there wouldn't be any organised tournaments at the club level.
By extension, avenues for club revenues were closed, which presented serious financial strains to several clubs that relied heavily on monies realised from sponsorship.
Save for those with large active memberships that replenished their finances through payment of annual subscriptions, which in turn came in handy during this difficult period, it was a real struggle to others.
Being independent entities with permanent staff including subordinate and those on temporary engagement, most clubs were required to pay their workers besides incurring other overhead costs, which was an uphill task.
These tough times called for desperate measures as some clubs introduced green fees, which allows its members to make use of the course.
The cost of maintaining an 18-hole course like that of Nakuru Golf Club is not an easy feat. For one to do a diligent job, be ready to part with anything close to Sh400,000. This should be enough for cutting the roughs, irrigating the fairways and tending to the greens.
But due to the prevailing tough financial times, most clubs have had to scale down just to cut on their maintenance costs. After tending to the greens, fairways and shallow roughs, they've been able to spend about Sh250,000 a month.
All these ongoings did not seem to please several players. Some members were okay with the plans, while others kept questioning why they had to pay the fees while they had religiously settled their annual subs.
The smart ones simply kept away from the course and the game too, if only to avoid what they referred to as unnecessary charges.
Even as clubs gradually open up their fairways, some are already rethinking the decision due to the spike in number of infections across the country.
Already, Nakuru Golf Club stopped reciprocation by visiting members to help check who interacts with the club membership, just to be safe.
In fact, some members have opted not to patronise clubs as a way of minimising interactions and contacts with other members. This, they said, it's for their own safety.
Others have been forced to stay away due to the issue of self-caddying as part of the guidelines issued by the Health ministry to help curb the spread of the virus.
This move forced most of the elderly golfers, who have been classified as most vulnerable, take a break from the fairways.
Life has also not been the same for most caddies. To them, action on the fairways had been their daily routine, more of their full-time and job and source of survival.
With no much action on the greens, most of the caddies have resorted to relying on food rations and financial handouts just a way of ensuring they survive the vagaries of the prevailing conditions.
Their lives were changed in the most drastic yet cruel manner. None of them had seen this coming. No one had thought of how life would take a turn to the worst.
To them, it used to be a routine walk and swings. It was a life they had been accustomed to. Give a hint here, give a high-five after a job well done and walk home a happier and richer caddie. It was that easy and structured.
After President Uhuru Kenyatta lifted the cessation restrictions two weeks ago, some clubs drooped their guard. Others stopped taking temperatures of members before they accessed the facilities.
Worryingly, some members stopped donning the face-masks as if normalcy had returned, oblivious of the spiking numbers and the fact that, the infections are at the community level.
Golfers and club memberships seem reluctant to observe the basic Covid-19 guidelines as they did once the pandemic hit the country.
"It's getting worse and we are not taking things lightly with the resurgence on the infections. There is an urgent need to reintroduce stringent measures for our club now than ever before," said Nakuru Golf Club chairman Steve Kihumba.
With the reopening of clubs and reinstatement of handicaps, some clubs have reverted to their earlier competitions as well as, full-blown, open tournaments which meant visiting golfers would take part.
This has, however, been thrown into disarray, with the nationwide surge in the infections.
With the current state of affairs, it does not guarantee the anticipated resumption of tournaments by mid-September or November.
As the world tries to find ways of dealing with the pandemic, golfers, and the daring ones at that, will also try and find ways of playing caddies and coping with the new normal within the golfing circles.