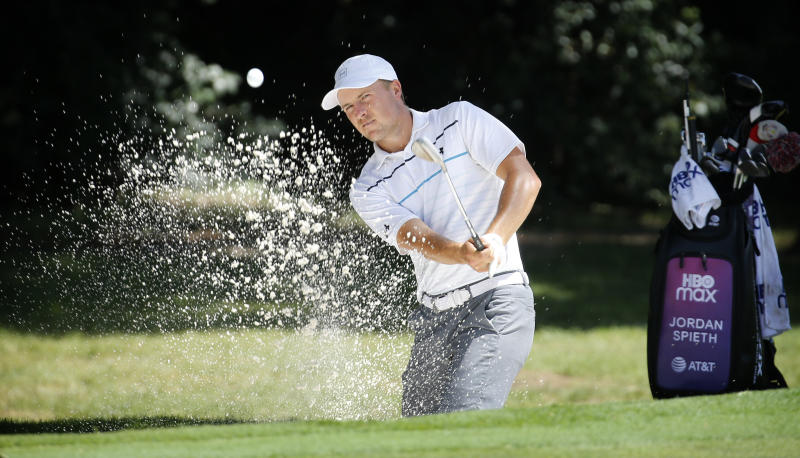 Today the issue is a golf club's offset. A unique fact about golf is that it is one sport where for the best performance, the equipment and the player must marry into one, a relationship that is close and very specific.
Golf is not like soccer or volleyball, where everybody plays the same ball. It is closer to tennis and squash, where although the same ball is played by both players, each player uses a racket that is customized to their specifications, by grip size, tension in the strings and overall weight.
SEE ALSO: They came, saw and conquered: Football stars who faded fast
Or archery, where the archer uses bows and arrows tailored specifically to them. They guard such precious equipment jealousy. Golfers with fitted clubs will not let anybody use them. Some golfers will not even let you touch their putter.
The best sportsmen and women know and understand their equipment. They know that one cannot pick up any standard equipment and expect to perform their best.
SEE ALSO: Hockey star Oburu raring to swing his way to golf glory
Golf is also like Formula 1 racing in one way: the equipment is complicated. But also different in that while Lewis Hamilton leaves the technical intricacies of his Formula 1 supercar to his engineering teams, a good golfer has to understand each detail of his golf clubs.
Similarly, while Hamilton will have his machine's performance monitored every second during a race, and will even be advised over team radio, a golfer has to do all that for himself and cannot be advised by anybody else other than his caddy.
SEE ALSO: Chess: Kenya set to compete in Olympiad
Golf is probably the only sport where there is as much written about the equipment as about how to play the game. When it comes to golf, the devil is in the details.
In this article, we look at a detail most golfers will probably never have paid attention to; golf club offset. Hands up if you know what that is! Two out of ten. Pretty much as expected.
Anybody who started playing golf using muscleback blades knows the frustration of continuously slicing the golf ball. Part of the reason why 80 per cent of golfers use the wrong equipment to slice the ball.
While we appreciate that not everybody is a gearhead, one should at least know what to look out for when buying new expensive clubs.
Here is a quick exercise. Hold a butter knife handle in your right hand, and the blade in your left hand, away from you, the cutting edge facing down. Next, try and twist the blade clockwise with your left hand, while resisting the same with your right hand.
Obviously, you are unlikely to twist the knife since it is made of steel, a strong material. What is important is the visualization of twisting the knife along an axis that runs along the middle, from end to end.
Were the knife made of soft plywood or cardboard, you would actually see the twist. The face of the knife on the left side will tilt and face the sky.
Now picture the knife as a hockey stick. What you did was effectively turn a hockey stick into a golf club by introducing loft to the bottom section. A hockey stick has zero loft, while a golf club has some.
Taking the model further, imagine that after twisting, it is possible to separate that bottom section, the blade, from the shaft, then shift it laterally to the right some three or so millimetres.
Now glue these two pieces together: the two centerlines would be parallel but apart by that three millimetres apart. That separation is the offset.
Next, pick one your wedges or short irons and set up as if you are about to play a shot. Look at the club downwards from the butt down to the clubhead. You will notice that it appears as if the clubhead was fixed a few millimetres behind the centerline of the shaft. That is the golf club's offset.
In a particular golf set, the amount of offset varies. It is biggest in the shortest clubs and least in the longer irons. Club offset is one of the major differences between golf clubs for beginners and for better golfers. Clubs for better golfers have almost zero offset.
Why the offset, you ask? The offset naturally puts your hands in front of the club head. In the address position, your hands are on the shaft, while the club head is angled slightly back.
This helps when swinging an iron because your hands lead the club head through the point of impact and offers a better angle of attack, leading to impact with your hands in front of the club head.
It does this by moving the club head's centre of gravity farther from the shaft centerline, which in turn helps to limit a slice happening because that lead gives the head a little more time for the club face to square up at impact.
By offsetting the club face, impact with the ball is delayed a split-second. That split-second delay is required to square the club face and avoid a slice.
This is exactly what a beginner or less proficient golfer needs. Golf clubs for beginners and high handicap golfers have big offsets. There are even woods and drivers with very noticeable offset.
You may have noticed that monied golfers in the last century carried sets of Ping golf clubs in the trunks of their Mercedes Benzes. This is because Ping irons have traditionally had big offsets. The bigger offset served to cure their slices. Callaway has also been veering in that direction.
Unfortunately, the bigger offset is also the reason why better players do play them. For these high-performance players, the high offset would cause a hook. To others, the big offset is simply ugly.
I once tried out the TaylorMade Firesole offset driver and hated it immediately! It looked outlandish; and the very discernable late impact felt weird. But strangely, the ball went straight, instead of my usual slice.
While an offset driver is suitable for players with very low swing speeds, most golfers are better off playing woods without offset.
There is one big downside to getting used to playing high offset clubs: the golfer never gets to learn the correct swing mechanics, will not learn how to improve his swing and learn how to square the club face on his own.
And if he does learn the proper mechanics, the offset will later turn a proper swing into a hook. Golfers are therefore advised to learn proper mechanics and only rely on offset clubs in the early years.
Some of the leading golf companies no longer offer offset drivers or woods. Instead, their clubs have built-in draw-enhancing properties, for example, increased heel weighting which you can't see, and or a closed face, that is easily noticeable.