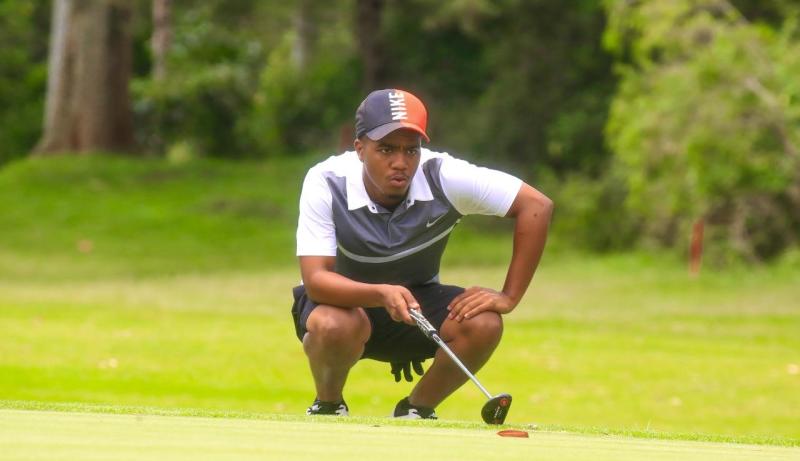 Hard work and resilience describe Mathew Wahome's insatiable hunger for golfing glory.
At 22, Wahome habours lofty dreams on the course even as he stands out as the youngest professional golfer in East Africa. He has excelled in every level of the sport and his star keep on shining.
SEE ALSO: This may not be the time for captains to resume league matches
Wahome hails from a family with a rich golfing pedigree. His father Martin and mother Alice are seasoned golfers, who offered huge support for him.
"It was not by luck that made me take up golfing as my parents have been playing golf for many years," said Wahome.
SEE ALSO: OPINION: Why Nick Mwendwa is wrong on registration of County sports associations
Born on November 19, 1997 in London, United Kingdom, Wahome was introduced to golf at the age of eight after his parents signed him up to play a few junior tournaments.
"I used to accompany my parents to golf clubs when they were playing and developed strong love for the sport," said Wahome.
SEE ALSO: Tennis: Nadal to skip U.S. Open due to COVID-19 concerns, entries announced
He said his parents secured services of experienced coach Jimmy Kingori, who has since relocated to Mount Kenya region, to train him. "I got the best coach any golfer would wish to have and I am happy I did not let him down," said Wahome, who studied at Mombasa Academy and proceeded to Varsity College Cape Town, South Africa, where he pursued degree in Business Commerce.
"I played football, basketball, hockey and was part of the swimming team at Mombasa Academy but realised my passion was in golf. I am happy that I made the right choice.
"My experience as an amateur was enjoyable. And particularly in the national team where I travelled to different parts of the world. I was playing well and I felt it was the right time to test myself against the professionals.
"Golfers who turn professional are normally high ranking amateur golfers who have been playing in amateur tournaments. But playing professional golfing has its own challenges. As a professional golfer, you need to be honest about the standard of your game unlike in amateur where you can forget about your poor play and move on to the next event," he said.
Wahome, who loves reading biographies of great people, said his highlight of the 2019-2020 season was when he finished third at the Pam Golding Safari Open at Lake Serena Golf Resort in Uganda with a score of 287 (one under) in four rounds.
"After the first season of my professional career, I was strong heading to the next round that was due to begin last month. The Covid-19 pandemic has abruptly put a stop to this and we are still unsure of when the tour will resume. Being at home has given me a lot of time to reflect on my game and find ways to improve. This will help become physically and mentally prepared for the tour restart.
"I believe I am taking the right steps and the many golfers I am interacting with will guide me. There is a lot of travelling in professional golfing and costs a lot of money to play full time as a professional," he said.
Wahome boasts having won the Coast Open in 2014 and 2015 at Mombasa Golf Club.
"I felt great when I turned professional. I am looking forward to becoming one of the best golfers," said Wahome.
He calls on young golfers to practise regularly and become members of the Junior Golf Foundation (JGF) where they benefit from coaching and access to any golf club at lower rates.
"I transited from junior, amateur to the professional circuit through the coaching and access to golf clubs. I challenge young golfers not to shy away from taking the sport with passion," he said.
He draws inspiration from America's former world number one Tiger Woods.