Golf in the time of corona: How do you drink and eat together in masks at the club?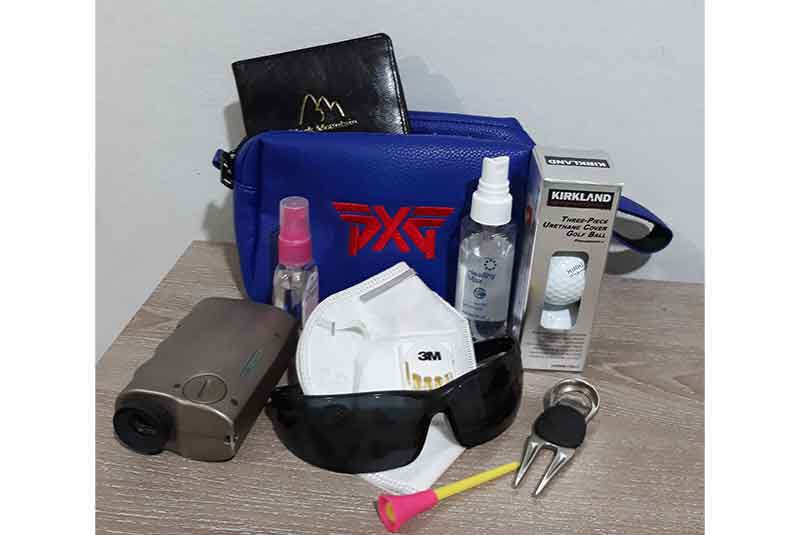 After playing hide and seek, coronavirus has finally arrived in Kenya. Life is about change in ways you have only seen on TV lately, and others nobody has seen yet.
For those who were on Mars, the last few weeks, here is a recap. We are all running helter-skelter to avoid coming into contact with the SARS-Cov2 virus, now better known as the Novel Corona Virus. The statistics in the past two months are good and getting worse by the hour.
The virus is known to cause a respiratory disease named Covid-19. A person who catches the virus may not know for a whole two weeks, but during this period, they can spread it to other people.
There are two ways the virus is spreading: through inhalation of a sick person's breath or contact.
For the golfer, the biggest question right now is whether it is possible to continue golfing amid the dangers of contracting the virus. The answer is Yes, but only if, and that is a big IF.
Unlike sports that either involves contact with your opponent or teammate during play or are played in a small room at close quarters to each other, golfers may count themselves lucky that they do it out there in the open air.
But hold your horses! Before you head the course, you should be aware that even golfers are in danger.
If you are sick, kindly seek treatment and avoid public areas like golf clubs.
If you have recently arrived from one of those zones already beset by the virus, do the right thing and self-quarantine for 14 days.
Golfers get quite close to each other during play: at the Tee and Green. Golf is also a very social game where the camaraderie at the 19th hole where they share the traditional drink after a round.
Covid-19 is going to change the way golfers interact with each other and their caddies. The paradigm shift in the socialization aspect of golf will be massive.
The strategy for avoiding this virus during your golfing is two-pronged: One, observe social distancing and as much as possible avoid touching surfaces and objects that are likely to be touched by other people.
Social distancing is simply keeping a good distance for the other person. The idea is to avoid inhaling any water drops in the air exhaled by a sick person.
If you can smell the garlic in the lunch he ate, or her perfume you are already too close! Be cautious of those known for spitting out saliva as they talk.
The magic number that has been provided for Social Distancing is six feet; two club-lengths. Or rather, two driver lengths.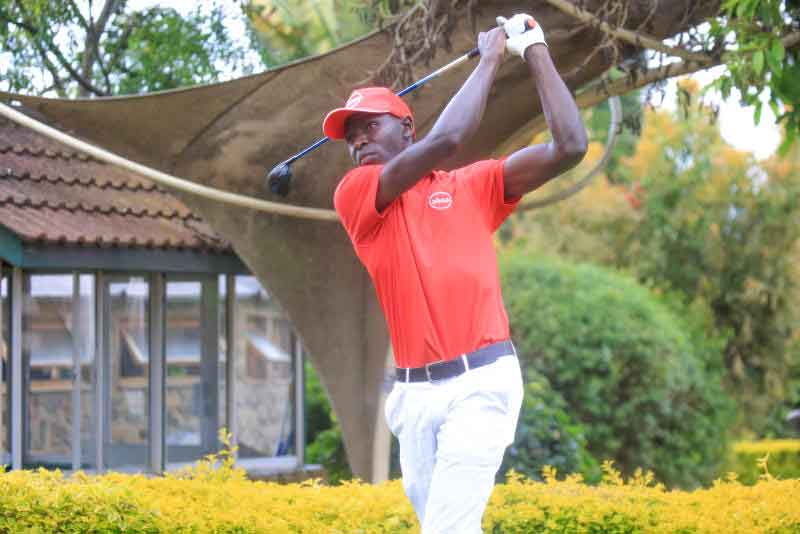 If you are unable to keep that distance, then you should protect yourself by wearing a nasal and mouth mask, the ones surgeons wear, or preferably one with an N95 rating.
The mask works both ways. It protects the wearer from inhaling air laden with the dreaded virus and, in case the wearer is the sick one, stops the virus in the air breathed out from spreading.
Two, avoid touching surfaces like tables, doors that other people might touch and avoid touching your mouth and face. It is in the touching that the virus gets transmitted.
The latest report indicates that the virus can stay alive on a surface for up to three days. It would be best that you avoid touching anything that someone is likely to have touched.
And if you do, wash your hands thoroughly with soap. Since this is likely to happen when you are far from handwashing facilities, keep a bottle of sanitizer gel with you.
The sanitiser should contain at least 60 per cent alcohol. Regular sanitizer liquids with less alcohol content will not kill the virus.
Your golfing life is going to change. Suddenly, your golf accessories pouch has two new items: a face nasal and mouth mask, and a bottle of sanitiser.
The days of pooling together when driving to Machakos for a round of golf shall come to an end. Remember, six feet? Otherwise, everybody in the car must wear a protective mask.
In the ideal case, you are much better off playing solo. And without a caddy. This is best done with a carry bag instead of lugging a pull cart. This is nothing new for those who have golfed in the West.
Of course, you can use a motorised cart, but then you would need to wipe the steering wheel, seats, frame and roof clean with sanitising fluid.
Playing solo will reduce the capacity of the course by 75 per cent so is unlikely to be allowed during peak hours. So, team up the usual fourballs but play safe.
How safe? There shall be no handshaking or hugging at the Tee. The new greeting shall be clashing driver heads from a distance. Like two gladiators setting up for a fencing duel. No, the shoe bump is not good enough, you are already too close.
For those who cannot do without a caddy, make sure the caddy also wears a mask. Both the player and the caddy must protect themselves from each other.
At the Tees and Greens, stay far away from each other. Don't be in a hurry to Tee up your ball after the other guy has hit. Give it a few moments for the droplets to succumb to gravity.
When putting, leave the pin in the hole. Luckily, putting while the pin is in the hole is already allowed by the rules. Just imagine how many people touch that flagpole every day!
There shall be no more sitting together on the same table at the halfway house! Remember, six feet? Grab your snack, one at a time then head out. The course Marshalls will love this since it's bound to speed up golf.
Social distancing also when tallying scores at the end of the round. Either shout out scores at each other from two club-lengths away or wear masks.
Forget showering at the club. There are too many people in that room at the same time. And you are not going to shower with a mask on. Are you? But do wash your hands thoroughly with soap after the round.
The bar and kitchen are going to get hard. How does a member achieve the minimum spend ceiling when buddies cannot sit together and have a drink?
Drinking and eating together, while wearing masks would be rather outlandish!
Of course, you could sit far away from each other and send each other drinks. Six feet also means that the bar capacity goes down 80 per cent.
The clubs have a role to play too. To avoid members and visitors entering the club premises while sick but unaware, there will be the need to at least monitor their body temperatures. A high temperature due to last night's hangover will not suffice for an excuse.
Anybody with an elevated body temperature should be advised to seek further medical attention immediately.
This monitoring should be applied to the caddies and members of staff, daily. And so all visitors, deliveries.
Bottles of sanitiser containing 60 per cent alcohol should be placed at the entrance at strategic locations around the clubhouse. Do not forget the guard at the gate. The one who hands out those cards as you drive in.
The club management must ensure that all members of staff especially those handling food and drinks wear masks all the time and that they keep washing their hands frequently.
The current protocol being observed is that if one member of staff turns out positive with the virus, the establishment must close and the whole place sanitized.
We have already seen that happen in Asia, where banks, offices and restaurants have had to be closed and sanitized.
There should be no self-service at the food counter. Many hands touching those serving spoons introduce too much exposure and risk.
This is going to be a hard ride. Nobody knows where this coronavirus epidemic is headed or how it shall end. It is up to all of us to observe the necessary precautions to ensure the safety of all of us.
Lipouts: Golf Tour Championships all over the world, including our own Kenya Open that was scheduled for last, have been suspended until further notice. The same need to be applied to all our club golf competitions.
[email protected] @pigamingi1