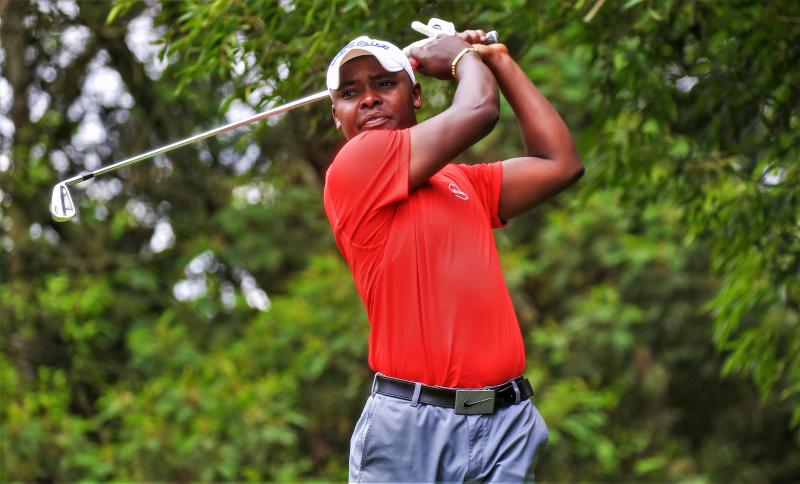 Muthaiga Golf Club Greg Snow maintained his good run as he fired level-par 72 to maintain the lead at 2-under after the second round of the 2019/2020 Safari Tour Series ninth leg at Sigona Golf Club yesterday.
Snow the winner of both the seventh and eighth legs at Thika Greens Golf Resort and Muthaiga Golf Club respectively had a balanced round of 18 at Sigona with one over through the first nine to turn in a 36.
The Johnnie Walker sponsored Snow, who started the round as joint leader alongside Thika Golf Club's Simon Ngige, had a cautious approach throughout his round owing to the windy conditions which made scoring difficult.
He dropped a total of three shots; at the seventh, eighth and seventeenth, while hitting birdies at the fifth, ninth and fifteenth for a round score of par.
Snow sits one shot ahead of Zimbabwe's Robson Chinhoi, who also returned a score of par, to take his total to 1-under par, 143.
On his part, Ngige returned a score of 2-over par, 74 to drop to third place on a gross score of par, 144.
Pro Sujan Shah, had the best score of the day after carding a round of 2-under par, 70, courtesy of three birdies, that came in quick succession at the 11th, 12th and 13th coupled with one dropped shot, at the fourth, to see him move into 9th place on the leaderboard.
The Professional Golfers of Kenya captain, CJ Wangai, who also calls Sigona home, returned a round score of 1-under, 71, to ascend to T11 on a gross score of 5-over par, 149.
The other big mover after round two was Dismas Indiza who also returned a 1-under par score, to earn him 5th place on the leaderboard at 2-under, 146.
A total of 21 golfers, including one amateur, made the CUT, which was set at 8-over par and will consequently play in the third and fourth rounds.
Jacob Okello, Alfred Nandwa, Nelson Mudanyi and Kennedy Abuto are among those who missed the cut heading into today's third round.
Greg Snow, Robinson Chinhoi and Simon Ngige will be the last off the deck today. [Mose Sammy]