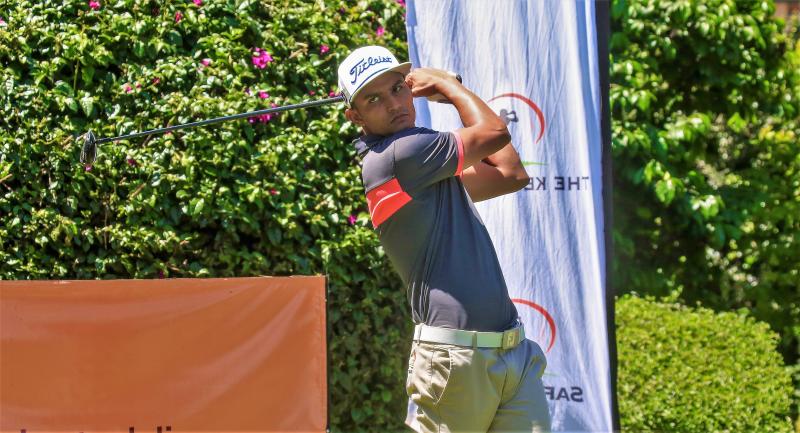 Greg Snow sustained his good march at the eight leg of the Safari Tour 2019 – 2020 season finishing his second round with a fine 68 during the event hosted at Muthaiga Golf Club within the City of Nairobi yesterday.
Snow, displayed some splendid putting though his round despite the course playing long due to wet course condition.
On his opening nine, Snow parred the opener a par-4, par-3 second and the par-4 third holes. Birdied the par-5 fourth but bogeyed the fifth.
And parred the par-4 sixth before sinking a birdie on the par-5 seventh closing the first nine with two successive bogeys on the eighth and ninth holes for a 37.
Snow then put his foot down after the turn, picking a birdie on the 10th. Back-to-back pars on the next three holes were blemished with a bogey on the par-5 14th hole.
An eight-footer putt licked out of the cup on the par-4 15th, this saw him pen a par. From there, Snow was on fire as he rolled in a birdie on the par-3 17th and par-4 17th but his second round highlight came on the par-5 18th.
Playing to his home course advantage and with a huge crowd keeping him company, the long-hitting Snow found the fairway slightly past the 340-yard marker off the deck.
Armed with a seven-iron, Snow dropped his second shot six-feet off the Yellow-pin to the left of the green from where he drained it for an eagle, which was met with a rapturous applause from his legion of fans.
"I'm happy with the progress of my game so far," said Snow. "My pace of play was fine. I have to create a lot more chances for myself if I'm to maintain the tempo I've had so far."
"I played several good shots through my round and staying focused today is all that I need for today's round by playing a hole at a time." he added
Lurking in Snow's shadow in the professional category was another homeboy, Geoffrey Makokha, also at 1 under (73, 70) 143 two shots shy.
South African based Daniel Nduva was the top amateur after returning a commendable 5 over (77, 70) 147 for a third place finish.
As debutante Zambian professional Sydney Wemba who carded a second round total of 5 over (76, 71) 147 for a T3 finish with Thika Sports Club's Simon Ngige at 5 over (75, 72) 147.