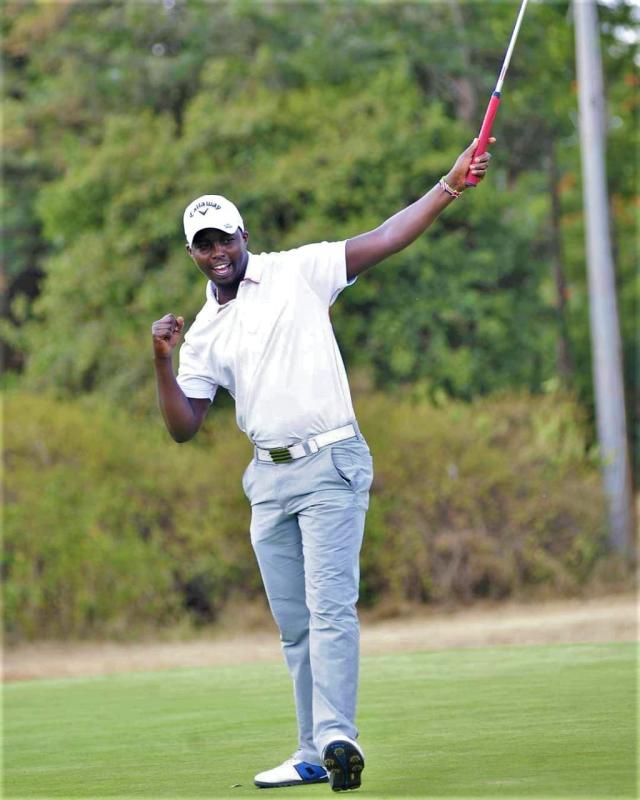 Muthaiga Golf Club's professional golfer Nelson Mudanyi stormed to the apex of the second-day leader-board after he shot 7-under 65 to bag the second-round lead at the Safari Tour 2019/20 leg at Thika Greens Golf Resort, yesterday.
Mudanyi, who had carded 3-over 75 in the first round, took his round total to 4-under (75, 65) to finish tied with Mathew Omondi, who rounded up his second day with 2-under 70 having played a similar score of 2-under 70 in his opening round.
Day One leader Johnie Walker-sponsored Greg Snow, also from Muthaiga Golf Club, finished at 1-over 73.
Mudanyi, who has not had a memorable impact in the tour so far, inked a birdie on the opener a par-4, parred the second and third holes before birdying the fourth and fifth holes.
He held par on the next four hole to end his opening nine with 3-under 33.
He then picked three back-to-back pars, before icing them with two birdies on the 13th and 14th holes.
A rejuvenated Mudanyi played level on the 15th picking two more birdies on the 16th and 17th holes, dropping a par on the 18th to finish with 4-under 32.
"I have been swinging well but my score hasn't been commendable but today, a couple of things fell in place, which was spurred by a good attitude going into the round," said Mudanyi
"My switch of mallet putter for an Odyssey Works putter worked magic. I hit 14 fairways on regulation, 10 fairways on regulation and played a total of 28 putts for my round of 18 which is fairly great," he added
Going into the third round, he hoped he could maintain the stats by playing a hole at a time and hopefully, improve on the putting strokes.
Mumias' based long-hitting Dismus Indiza failed to make the cut into the third round as he bowed out of contention with 9-over (76, 77).