Lavish win for Asego at Thika Greens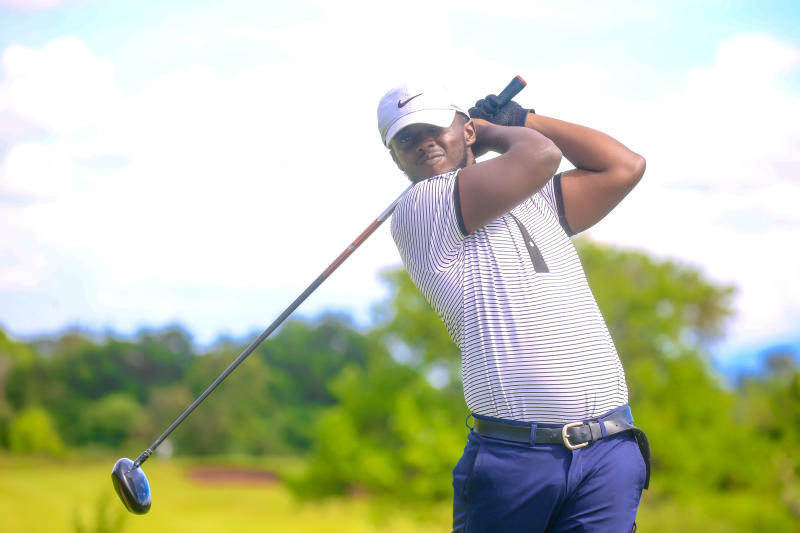 On an identical score of 20 stableford point from both nines, Larvin Asego shot a round total of 40 stableford points to lift the seventh leg of the Safari Tour played at Thika Greens Golf Resort.
Asego a former international rugby star who turned up for Shujaa sevens side, won the bagged the title playing off handicap 15.
Another former rugby sensation Humphrey Kayange, A. Kwaya and Zambian professional, Sydney Wemba finished in second place, on 83 points.
Two points behind the eventual winners, the team of F. Makazi, A. Mwaura and R. Njuguna, with Muthaiga Golf Club's Geoffrey Makokha as the team professional golfer.
Thika Green's resident pro Kopan Timbe's team finished in third place on 82 points, a point behind the second place.
Golf Park's top amateur Naomi Wafula won the Lady winner's prize ahead of Esther Wanjiku as left hander Kenneth Mwangi Njoroge walked away with the men's prize edging out of James Nderitu to second men winner.
In the Nines, the duo of Elijah Bole and Macharia Wandere were First and Second nine winners respectively.
"On behalf of Barclays bank, I want to congratulate today's winners and re affirm that we remain committed to the growth of golf in the country, and more so the opportunities it presents beyond the course." Arnold Ndugi, Barclays Bank Regional Manager said.
As a bank, we believe in connecting people's dreams and ambitions to the resources they need to achieve their aspirations in line with our brand purpose - bringing possibilities to life." added Ndugi.
At the Nakuru Golf Club, 82 junior golfers drawn from host Nakuru Golf Club and Kericho Sports Club participated daylong tournament.
In the age 9 and under, Harvir Sagoo carded 31 gross to claim the main spot with Fridah Soile winning the ladies title with 58 gross while Aakash Gohil was third with 35 gross.
For the 10-12 years group that saw juniors compete in a 9-hole duel, Brian Kai was tops with 53 gross as the girl winner prize went to Nicole Njeri with 70 gross as Mike Kami placed third on 55 gross.
In the age 13-15 years category, Vincent Kipkemoi won on a score of 99 gross as Sarah Gathoni was the best placed girl golfer with 130 gross with Gurvir Sagoo settled for third place with 100 gross.
Evans Kirika won the Net prize in the 13-21 years category with 56 gross.
Wasim Ali shot 80 gross to lift the boys title in the 16-21 years category. Gladys KOINANGE was the Girl winner on a score of 103 gross. Cyrus Wanjohi came in third on a score of 85 gross.
According to Steve Kihumba, Nakuru Golf Club Chairman & Junior Golf Foundation JGF, Central Rift Representative, "We appreciate the enormous talent that the crop of junior golfers are displaying. If nurtured well through good training, this will be the crop of Kenyan golfer that will win the Kenya Open going into the future."
"We have to keep fighting for the growth of junior golf if we are to earn our place on the world's golfing arena as a formidable challenger to the competition out there. By ensuring that this kids develop their ability in terms of endurance and mental concentration."
Together we can make golf the sport of choice for every child who already have access. Together we can make golf accessible to all. And one day we will all share a historical moment and remember these humble beginnings." noted Kihumba.