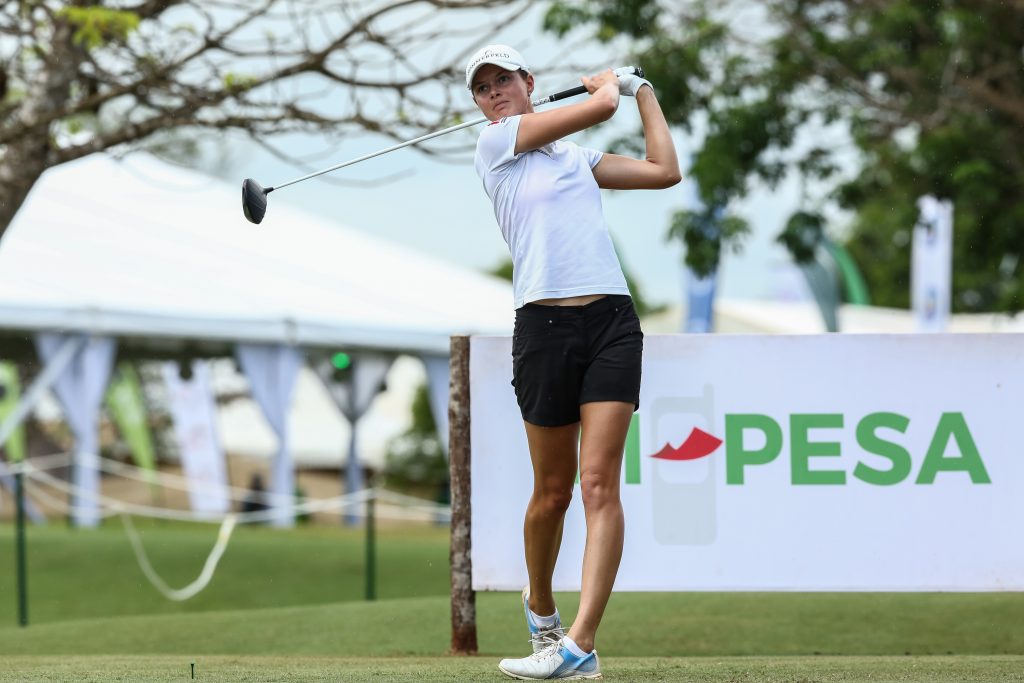 Never before have we witnessed such a great moment in Worldwide Ladies Golf in Kenya, as happened yesterday at the Baobab Vipingo golf course. This was truly the greatest moment in golf in Kenya and for it to happen at the inaugural Ladies European Tour Kenya Open was just epic.
If you missed watching this event, either live at Vipingo or on TV, please go ahead and kick yourself in the behind. You missed watching golf history happen.
From the word go, an unknown rookie, Esther Henseleit, was noticed hanging around the top five leaderboard, but nobody expected her to win. At least not against the current order of merit leader Julia Engstrom.
By the close of play on the third day, Saturday, pundits were busy declaring this a done deal for Julia. At 14-under, she was a clear seven shots ahead of the rest of the pack.
But as they say, it is never over until the fat lady sings. In this case, the usurper would turn out to be nowhere near fat.
We watched mouths open on Sunday as the seven-shot lead evaporated in the front nine, courtesy of a ten shot swing. Absolutely unbelievable!
Julia was having a very bad day, a nightmare. On Saturday she had complained of the food having hit her with a bad case of Kazungu's Unkula Huu, our Pwani's version of the classic Montezuma's revenge. Pole Dada.
She found the going tough and with engine leaking oil, she could not hold back Esther and collapsed spectacular with the yips, missing two short putts that pre-teen phenom Chanelle Wangare would have made left handed, with eyes closed.
What I can't fathom is how her handlers did not notice that she was suffering from dehydration. In the 31-degree sun, we never saw her shielding her body with an umbrella or sipping water.
Her ultra-fast gait was indicative of having given up and could not wait for the round to end.
Hot on her heels were German Esther Henseleit and charismatic Indian Aditi Ashok, who would shoot the lowest rounds of the competition, 64 and 65, 7 and 8 under respectively. I would like to see Indiza and his Pro counterparts try and beat that.
With her win, Esther Henseleit, pocket three titles in one move: Rookie of the Year, Winner of the Order of Merit, and Winner of the LET Magical Kenya Open, the latter being her first-ever win on the European Tour.
Only twice before has a rookie won the Rookie of the year title and the Order of Merit, among them Dame Laura Davies. This was truly history happening right in front of our eyes.
In truly Kenya fashion, she and her other Tour ladies celebrated with not the traditional bucket of water sloshing, dump into the lake, or even Champagne, but with a blast of Kenyan beer! What a blast.
The crew at KLGU went one better, by building a colourful Giraffe-shaped sculpture trophy made out of recycled material. Bravo, for reminding us to practice sustainability as we seek to meet the 2030 United Nations Sustainable development goals.
Some lessons learnt: one, as the Kikuyu say, ni yumbukaga I mbute, a chicken whose feathers have already been unplucked, can fly! Under the right conditions, of course. Never, say never, keep grinding and hacking it, even when your round of golf seems headed for the ICU.
Two, the level of our Ladies golf, just as the Men's is way below par when measured against the best in the world. Three of the Kenya amateur players were discontinued after posting off-the-limits scores, per Tour Rules.
Pro Bhavi Shah fought bravely, but could not make the cut and was even beaten by Rose Naliaka's golf protégé, Naomi Wafula, who unfortunately also did not make the cut. Challenging the boys, by playing from the tips, seems to be paying off.
Three, and I have advised on this before, when golfing in hot weather, stay hydrated. Carry a bottle of water, insulated to keep if drinkable, and take a few sips every few holes. And of course, shade your body from the sun with an umbrella, and protect your skin. You may have noticed Aditi wearing protective arm sleeves.
I have watched Aditi come up on the Ladies Tour, almost winning the Rookie of the year last year. Since then she has already won twice.
If these two inaugural Magical Kenya open competitions are a harbinger of the future, we Kenyans are in for a treat. But we need to get some of our own golfers to share part of that cake.
On a sad note, may I join the MM's golfing group of Kenyan's in Tanzania, in sending condolences upon the sudden and untimely demise of our dear golfing friend and philanthropist, Lion, businessman and entrepreneur Ali Mufuruki.
He was better known in Kenya as the Investor in Zuku TV and IT. A true golfer and a keeper of the faith in playing golf in its purest form. May he rest in peace.
Pigamingi will be back in January, with a review of the year that was in Golf. Enjoy your Christmas with a round of golf at your ingo, upcountry, County course.
Play the ball as it lies.