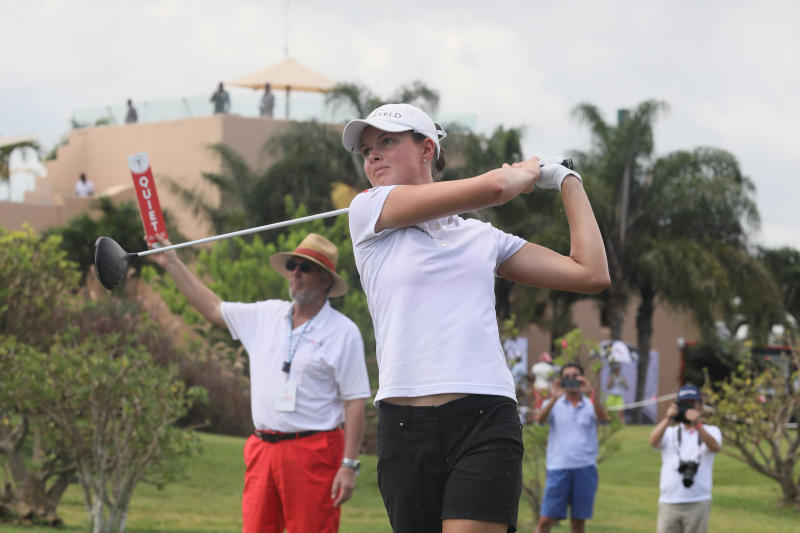 Germany's Lady professional Esther Henseleit came from behind to emerge the overall winner in the Magical Kenya Ladies Open (MKLO) Championships.
The event ended on Sunday at the par 72 Vipingo Baobab Ridge Course, in Kilifi.
SEE ALSO: Solskjaer casts doubt on De Gea's future
The four-day tournament, which is the final in the European Ladies Tour (LET) calendar, saw the 20-year-old Henseleit from Niedersachsen return a total of 274 gross for her maiden victory of the Tour and pocket Sh5 million as prize money.
Henseleit displayed her skills to seal off the event with a total of 14 under par having played 69,70, and 71 gross in the last three rounds.
SEE ALSO: Jadon Sancho off to pre-season camp with Dortmund amid transfer speculation
She now follows Dame Laura Davies and Carlota Ciganda as only the third player in the 41-year history of the LET to win the ranking and Rookie of the Year prize simultaneously.
"The course was really challenging. The views of the sea were great and I heard that the beach is really nice. The golf course is really good and the greens are different to what we normally play on in Europe. I am so grateful for my Victory," said Henseleit.
SEE ALSO: Europa League: Predicted Manchester United line-up vs Copenhagen
India's Aditi Ashok claimed the runner-up slot on a 13 under par total of 275 gross a stroke ahead of third-placed Swedish Julia Engstrom, who was the day one and two leader.
American Star Cheyenne Woods, a Niece to golf legend Tiger Woods, was fourth on a six under 282 gross, while France's Astrid Vayson De Pradenne on fine under 283 gross,was fifth.
Others in the top 10 were Christine Wolf (Austria)-284 gross, Laura Fuenfstueck (Germany)-285 gross, Gemma Dryburgh (Scotland)-285 gross, Beth Allen (USA)-287 gross, Olivia Cowan (Germany)-287 gross and Manon De Roey (Belgium)-287 gross.
First Lady Margaret Kenyatta, who was flanked by Tourism Cabinet Secretary Najib Balala and his Sports and Culture colleague Amina Mohamed, graced the prize giving ceremony last night.
She thanked the organisers for organising the successful tournament.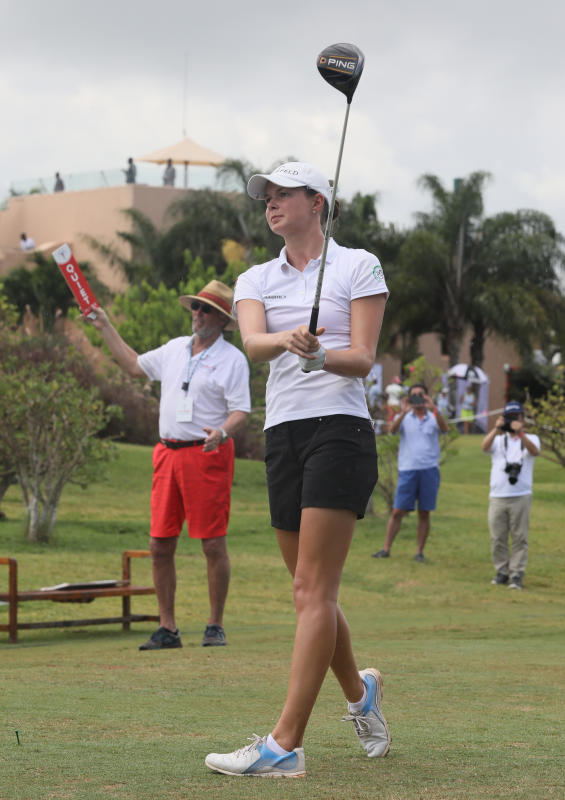 The event began on Thursday with 108 lady professionals, from 28 countries, taking part.
Meanwhile, Nyali Golf and Country Club's lady professional golfer, Bhavi Shah -the only lady pro golfer from Kenya to feature at the Magical Kenya Ladies Open, has said that her participation at the tournament has inspired her to improve on her game to enhance her competitive edge.
Bhavi, who finished her challenge at the tournament in 98th with a score of 23-over par 167 after two rounds, said she relished the opportunity of having played a Ladies European Tour event, adding that it was a great experience to interact and learn from some of the top lady golfers from across the world.
"I have learnt that I need to work on my competitive edge because it has been two and a half years since I played on a proper event, (and even though) I have been playing at the men's events, it is not the same thing playing against your own companions," she said.
"It is a really great opportunity especially because we have never had any lady professional event in the country, so I think this is really good. It feels great. The biggest take out for me is having had a chance to play on a Ladies European Tour event. Aside from the LPGA, this is the second biggest tour in the world for women."
Speaking about her time on the course, she said the weather played a significant role in her performance, adding that the heat made it difficult for her to produce the perfect result.
"It has been tough as it is very hot out here. I think I overdid it in my practice because I was so anxious since I wanted to play some good golf. So, after the first day, I felt like I had a bit of heat exhaustion. So, you have to stay hydrated out here and probably have a lot of electrolytes as well, which I didn't. Next time I will be better prepared for that," she said.
Commenting on what needs to be done to ensure that more Kenyan lady golfers are playing more competitively, Shah said there is a need to nurture the young talent in the country.
"We need to start from base level and get more younger girls to play in club events. The Kenya Ladies Golf Union can also do a lot better in terms of, when they play their GOTY (Golfer of the Year) series, there should be a lot more younger players."