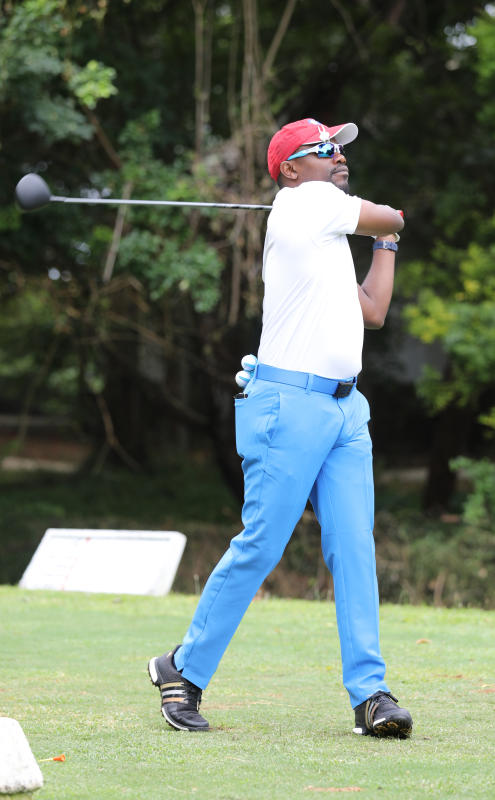 Over 175 Golfers are battling for top honors at the Standard Media Group's County Golf Classic Golf tournament being played at the par 72 Limuru Golf and Country Club Course in Kiambu County from this Morning (Saturday).
Club Captain Fredrick Ikana yesterday welcomed the players and thanked the Standard Media Group for hosting the event at their Club.
"It's a good privilege to have the Standard here, the Course is in excellent condition, greens running smooth and hope all the players will enjoy a good game of Golf here," said Ikana.
The daylong 18 holes stable ford tourney has attracted members of the club, Guests and staff of the Standard Media Group with Valid handicaps.
It starts off at 7.40 am with the team of K. Kimani, V.M.Waiyaki and K. Njane while at the same time from the tenth tee is the team of M.Wambugu, M. Nyaga, L. Mbugua, and Ano.
Standard Media Group's Chief Executive Officer Orlando Lyomu said the Company was happy to stage the tourney at Limuru and that it has been ongoing around the Country to among others market it vast products to readers and viewers.
Lyomu who is an ardent Golfer player and a member of Limuru Club tees of at 1.26 Pm from the first Tee alongside J. Gachanja, T. Kiburi, and M. Ngumo.
The Media house has also set aside an array of prizes up for grabs by winners in various categories at the end of the tourney.
Limuru Golf and Country club located 25 kilometers from Nairobi is surrounded by luxuriously verdant tea fields with a proud reputation of providing Members and their guests a friendly, welcoming and inclusive experience.
Its 686872 yards' course provides a unique hole-by-hole challenge for all members, visitors and guests and the Club also boasts of hosting the Africa Amateur Golf Team Championship event in October 2015, the first time the event was held in East Africa.