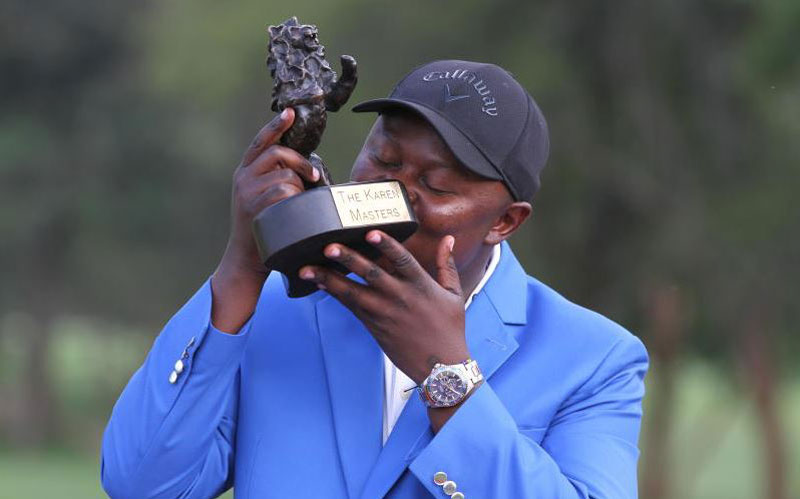 The just-concluded KCB Masters Golf tournament at the par 72 Karen Golf Club offered more lessons to Kenyan professional golfers.
The tourney attracted 156 golfers with South Africa lining up 100 professionals, 30 Kenyans and the rest from other African nations.
SEE ALSO: Premier League contacts clubs over need for distancing during games-report
After the second round on Friday, only nine Kenyans managed made the cut and were among the top 65 world class golfers who proceeded to the third round on Saturday and Sunday.
Only Greg Snow from Muthaiga appeared among the top ten on the leader board as he settled for the ninth spot on a round tie score of 277 gross.
SEE ALSO: LaLiga: Relentless Zidane can almost touch title after eighth win in a row
South Africa's Toto Thimba wore the 2019 Blue Masters Jacket and the overall winner on a score of under par 26 for a total of 262 gross.
He was ahead by three strokes to Portuguese golfer Stephen Ferreira, a member of Harare's Borrow dale Brooke golf club in Zimbabwe, who returned as a runner up on a 23 under par 265 gross. South Africans dominated the other top ten slots.
SEE ALSO: Shock as another Kenyan athlete banned for doping
Thimba said he was surprised by his performance. "I worked on my state of mind; reading quite a number of books of renown authors like Les Brown and Eric Thomas that changed my mindset. Golf is a mental game, so I had to," said Thimba.
Professional Golfers of Kenya captain C.J Wangai said the tournament was good but a big test for Kenyan pros.
"Though we had a series of events prior to the Masters, our team needs exposure and Government support. We will go back to the drawing board in order to improve our game next year," said Wangai.
The Kenyan professionals are eyeing the forthcoming Uganda Open where they will compete against the same golfers.
The masters tournament is in its third year and second Sunshine Tour was organized by South African Sunshine Tour and Karen Golf Club.
KCB Bank was title sponsor with Sh70 million out of which Sh15 million was meant for prize money. Other sponsors were Standard Group, Safaricom, Coca-Cola, Keringet, Johnnie Walker and Toyota Kenya.
Unlike last year where a Zimbabwean professional Ryan Cairns took home with brand new Toyota Prado Courtesy of Toyota Kenya after sinking a hole-in-one on the par three-fifth; this time a brand new fifth-generation Sh6.5 million Rav4 Sh6.5.