Patience pays for Allan Habala in Diani tourney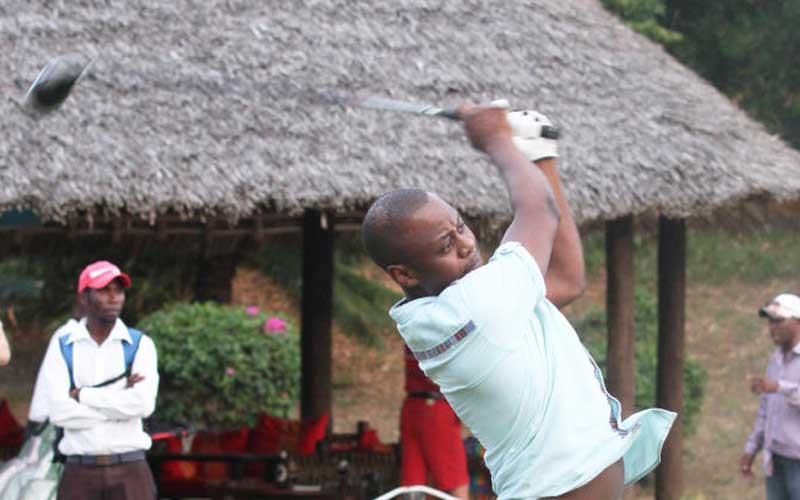 Allan Habala's patience came in handy at the weekend after emerging the overall winner of the club trophy at Diani's par 72 Leisure lodge golf resort course.
The handicap 11 Habala, who made a false start with a double bogey at the par four-first hole, fought on to card a total of 34 stablepoints to claim victory and beat a team of 120 golfers in the one-day tournament, which was sponsored by the club.
The first nine was a bad round for Habala, who played another double bogey at the par five-ninth hole but recovered by rolling a total of seven level pars and nine bogey shots in the rest of both nines to take the lead.
"The course was challenging due to the wet weather conditions where the ball could not hold on the greens. But I am happy for the victory as we prepare for the forthcoming Diani Beach Masters at the club," said Habala.
Club mates handicap 14 Anthony Huth, on a countback score of 31 points, was the runner-up after tying on the same points with third placed handicap 10 Stan Kinsch.
At the par 71 sea-link Mombasa course, Ammaar Walji utilised his home course skills by surviving a countback to clinch victory on a score 67 nett in the clubnite tournament jointly sponsored by AAR Health care, Stanbic Bank & Sunset golf Society.
He tied on the same points with second-placed Muthaiga's handicap 25 Duncan Ndegwa, while Mombasa's handicap 11 Maina Gichungu was third on 69 nett.
Meanwhile the four-man golf Team Kenya comprising of Simon Njogu,Samuel Njoroge, Zubair Khan and Mutahi Kibugu leaves the Country tomorrow (Tuesday) to Burundi's capital City of Bujumbura for this year's Region IV Golf Championships that kicks off from Wednesday to Saturday.
Defending Champions Uganda team of Joseph Chinywai, Daniel Baguma, Rodel Gaita and Godfrey Nsubuga (Debutant) arrived at the venue since last Thursday.
The four day tournament has attracted six nations that includes hosts Burundi, Kenya, Rwanda, Uganda, Tanzania and Ethiopia.
Team Kenya enters the Championships as wounded lions expected to regain its lost glory in the Region for the coveted trophy formerly known as East Africa Challenge.
The Format of play in day one will be a Stroke Play competition, day two is Foursomes and Singles while Day three will be Foursomes and Singles again.