Muchangi is third time lucky, but it raised some few talking points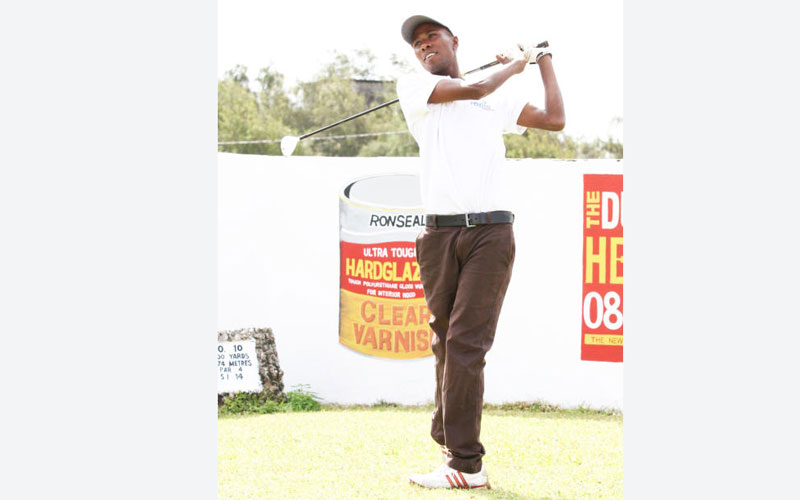 Paul "Gap-wedge" Muchangi from Limuru Country Club is the 2019 Kenya Amateur Match Play Champion after beating the 2015 Champion, William Odera, from Golf Park 1up on the 36th hole on Sunday afternoon.
The 97th Kenya Amateur Matchplay Championship was played at Muchangi's home club and was characterised by cold weather and rain; nothing new for the homeboy.
For Muchangi, who earned his nickname "Gap-wedge" because of his prowess in the short-game, it seemed as though he would be denied the achievement in his third attempt.
In 2012, Muchangi lost to Tony Omuli in the final of the Kenya Amateur Matchplay Championship. This happened again in 2018 when he was beaten by Daniel Nduva and at some point in this year's tournament, Odera looked poised to deny Muchangi the win.
For Muchangi, who is known for his consistency especially in Match Play competitions, was not going to miss the chance to have his name etched on the 94-year-old trophy; not when the tournament was being played on a course he knows well.
Muchangi and Odera have two things in common; they are both champions and they are true gentlemen on the golf course. Despite a very tight match, they treated each other with respect and they constantly acknowledged good shots even when they were losing.
Sadly though, not all the golfers had the same decorum. There were a few cases of uncultured behaviour, some bad etiquette and some cases of downright bad manners.
There were a number of players who did not show up for their matches. They all put their names on the entry sheet but on the first day of the competition, two did not show up.
The fact that the tournament was oversubscribed and the competition committee decided to use golf handicaps to select the best 64 golfers was lost on these no shows.
If these two had the decency to pull out in advance, it would have given the committee a chance to replace them with two of the players who wanted to participate.
After the first round, the players who are knocked out are given a chance to participate in the consolation prize. This is to say that they continue to play against other players who lost in the first round.
A number of players who were to take part in the consolation prize category did not show up for the competition and did not even bother to call to inform the competition committee.
One was even heard saying that he had been called for a competition at Ruiru Sports Club on Saturday afternoon and that he was going to skip his match. This is just plain disreputable.
It is understandable for players to be unhappy with their game especially when they make mistakes. This, however, is not a good excuse to spoil the ambience by issuing a stream of expletives.
The thing that I found most peculiar was that the younger players were the ones using the vilest swear words.
Then there were some spectators who, in their excitement, started using language only suitable for a boxing match. Shouting "Ua yeye!" (kill him!), has no place in the game of golf.
Some went as far as cheering bad shots. It will be a sad day for Kenyan golf when we let such bad habits to take root.
There were a few who, probably for lack of knowledge, did not conduct themselves as true golfers. There were those that did not greet their opponents and the starter on the first tee.
It is customary for golfers to wish their opponents well before around and shake their hands after the round. It is also expected of the player who holes out first to wait at the green until his opponent finishes the hole.
It is not enough for one to be able to strike the golf ball well. If they lack the proper golf etiquette, then they should not be allowed on the golf course at all.
So near, yet so far for Arsenal
A 4-1 defeat by Chelsea in the Europa League final means Arsenal missed out on Europe's premier competition for a third successive season