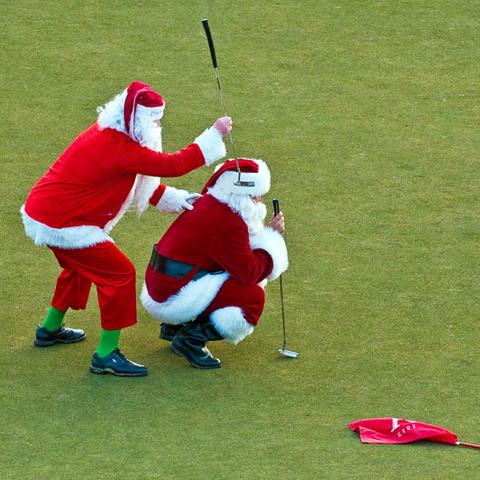 Christmas is just round the corner. What present to buy the golfer in your life?
I can bet you that if a golfer was asked what present he or she would like for Christmas, they would definitely choose a golf item.
Not an iPhoneX, Tag Heuer Carrera watch, Issey Miyake's Nuit D'Issey Cologne or even Victoria Secrets Angel lingerie: for the true golfer, golf gear rules.
In less weeks than the number of fingers on your hand, I will be Christmas. What better gift to buy a golfer than the gift that keeps on giving? But what to buy, and where to buy?
Have no fear, ye of little golf faith. I've got you covered. I have a list of items guaranteed to send the golfer in your life over the moon with excitement and appreciation.
The one place you are guaranteed to find golf clubs and accessories is at the pro shops located at the major golf clubs. Muthaiga has a great selection. For those wary of visiting those hallowed grounds, a few sports shops in the CBD and Westlands CBDs have your items.

Leading the way is Craig's at Sarit Centre. For the tech inclined, Ayaz understands golf specs and will advise you appropriately if you try to show off your limited golf knowledge.
A wide variety of the latest golf clubs, bags and accessories is available at Pride International on Loita Street. Grace Mucheru has some quality golf bags and fine attire too, obviously.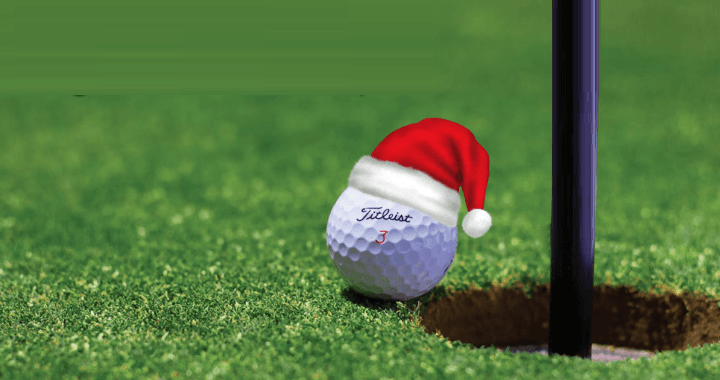 Let's start with your attire. You must have seen golfers on TV and noted that they dress sharp. The stringent and sometimes obnoxious rules that dictate how golfers dress have slowly been relaxed since the appearance of some black kid with a game out of this world, who prefers mocks to full turtlenecks and full collars.
Men are required to wear shirts with a collar, full or mock, buttoned or not. They also must wear shirts with sleeves, short or long. The best ones are made of Dri-fit material since it does not get soggy and uncomfortably like cotton.

Ladies get a break in golf attire which has seen some eye-caddy slowly enter the golf course. Sleeveless tops and some that reveal cleavage and midriffs are more than welcome but may be frowned upon by the older Ladies brigade. But biker shorts are only acceptable if covered up with by a mini-skirt. The jury is still out on Serena's catsuits.
Blue jeans pants are a No-No on the golf course, whether pants, shorts or skirts. But you can get round that rule in Dockers, khakis and pretty much any bottoms from the GAP catalogue as long as they are not blue. The length is up to you. Fashion conscious ladies look cool in their culottes and three quarter achutees.
You must have noticed that golfers always have some assistant with them hauling a huge bag of sticks that look like rungus with crooked metal ends. They are called golf clubs. The ultimate present in golf is a golf bag with all the 14 clubs, including driver and putter.
Father-in-laws have been known to demand that during dowry negotiations. Kabuti nipeleke wapi?
Buying a full set of branded high end clubs, will set you back two to three grand in dollars. But for beginners and kids, medium quality boxed sets are available for as low as $500 at big stores. Clubs for Southpoles are harder to find so are even more precious.
A word of caution here. Golfers are like sports car enthusiasts: they are very fussy and royal to their brands. When buying golf clubs, they demand for the latest model no matter how badly they are hitting the almost new model bought last year.
Conveniently and serving to their whims and demands, the leading brands launch a new model of each of their lines every year, ready to satisfy the golfer's vanity. We are a gullible lot.
If you can't afford a whole golf, buy them a set of irons, at half the above prices. Or that one club they all crave for, the Big Dog also called the driver. You can also get a wood, hybrid, wedge or putter as a single piece.
While a bit of sleuthing will tell you the sizes of shoes or size of clothes, it's not that easy for golf clubs. Clubs come in all permutations of brand names, models, club head sizes and lofts, shaft materials, shaft flexes and kickpoints. Only a really knowledgeable golfer or golf pro can figure out the difference.
When buying golf clubs for a loved one, go for high end brand names: Titleist, Callaway, Ping, and Taylormade.
It's Christmas time, man. For exotic golf clubs, like Evnroll putters and Honma forged irons, you may have to get friendly with one of those diasporans flying home for chapati and mbuzi choma this Christmas.
A lovely never-fail present that is also quite affordable, is a golf bag. Modern golf bags are a work of art, one you will actually enjoy buying and presenting. The golfer shall see your present every time she goes to play.

Golf bags come in three types: cart bags, stand bags and carry bags, in order of reducing size, number of pockets, weight and price. Take your pick. Avoid white and light colored bags. They stains and look really ugly after a short period.
Talking of bags, a really nice golf item that may not immediately pop into the mind is a golf travel bag. For the safety of the golf clubs when travelling, a golf bag is usually placed inside a travel bag. The bag should have two wheels for ease of dragging through the airport and should also be lockable.
Golf shoes are a great Christmas present for golfers. Modern designs include high quality black dress shoes that you can even wear to the office. Sneakers with golf cleats are the new rave. Golf shoes have cleats, so your regular sneakers will not do. Be sure to find out his shoe size, either by all UK, US and Euro sizing, and also whether regular, narrow or wide.
Golfers need balls to play the game. A box of a dozen high-end balls never fails. But be aware that golf balls vary in quality, performance and specifications. Read my previous article to find out the best golf ball for her.
A shower after golf is mandatory. Which means carrying your shower stuff and change of clothes in a duffel bag. Golf duffel bags typically have a separate pocket at the bottom for shoes. Others have a waterproof pocket for wet clothed. Alternatively, get a regular sports bag with a waterproof pocket, then add a shoe bag.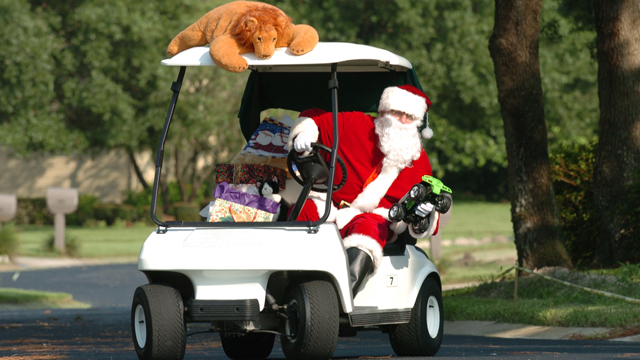 The other very visual present is a golf umbrella. Not just a regular umbrella that you can pick at Tuskys. Golfer's umbrella are wider, are wind resistant, have strong wire frames, and have double canopies. Avoid color white; it stains easily.
For headwear, baseball caps are the most popular. Wide brimmed hats and visors are another option. On bright hot days, eye shades with a high UV protection index helps protect the eyes.

Golfers play while wearing a glove. One, like Michael Jackson's, but it is worn on the left hand for right handed golfers, and vice versa. The glove is for holding the club, not for waving at fans. A half dozen in cabretta leather make a nice present. Sneak into his bag to find out his size, and whether his hand shape is regular or cadet.
There are some cheaper accessories that will still deliver the wonderful message of Christmas. A nice choice is the three meter long putting mat with an automatic ball return. Bosses love them for showing off their putting skills at their office.
If your golfer has a small patch of grass and a backyard, get him a chipping basket. It's a small net basket the size of a basketball ring. Watch his handicap come down as his short game rises.

Smaller but mandatory items in golf include a scorecard holder, a two-prong pitch mark repair fork, and a magnetic ball marker that clips onto the visor of your cap.
Protective arm sleeves are another option for golfers with skins sensitive to bright sunlight or fearful of getting a shade darker. Women love them, and have lately become a fashion item.
For that family member who bores you stiff with his golf talk, yet you know he hacks it like a lost bushwhacker in the Aberdares, an appropriate gift is a telescopic ball retriever to help him fish his wayward balls from the water pond. Watch his face as he opens the present. Then take cover!
So, no excuses this Christmas. You can buy the golfer in your life a present that they shall really appreciate for anything from $5 to $3,000. Grant him some Christmas cheer this season as he struggles to keep it in the short grass.