Shah wins Vet Labs' Lady Captains prize
GOLF By Mose Sammy | October 30th 2018 | 2 min read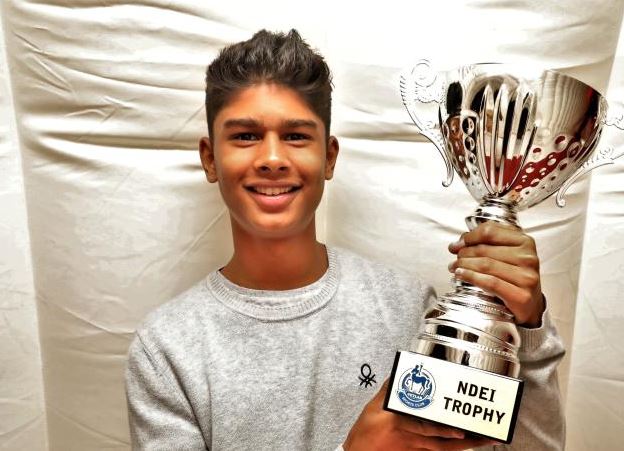 Pranay Shah, raked in 41 stableford points to claim the 2018 Vet Lab Sports Club's Lady Captain (Racheal Ndei) prize over the weekend.
With the time-sheet opening at 6:30 am on the first day, golfers played under mixed foursomes scramble format and stableford format on the second and final day.
Pranay, a handicap 20 and 10th year student at Aga Khan Academy, was elated to prevail over a field of 255 golfers, who took part in the tournament.
The event was presented by Mediheal Group of Hospitals and its chairman, who is also the Kesses MP Swarup Mishra, presented winners with the awards. He was accompanied by his Soi counterpart, Caleb Kosittany.
Other sponsors were; Sanlam Life Insurance, Safaricom Limited, EABL, Panari Hotels, Kengen, Coca-Cola, Knight Frank, Enashipai Resort, Brinks Security Services, and Haco Tiger brands.
The Lady Captain prize heralded the end of Racheal Ndei's captaincy that had several positive moments including joining the Junior Golf Foundation (JGF), an integral part in their Francombe Shield onslaught.
Some of the memorable results in the 2018 season included a second-place finish by Agnes Nyakio in the Windsor Ladies Open. Nyakio, also finished second in the Sigona KLGU 54 holes after loosing on countback. Mercy Nyanchama was second at Royal Ladies Open.
Currently, Vet Lab is placed first with an exceptional performance leading to the Francombe Shield with a game at hand.
"Thanks for the opportunity that I was granted to serve as the club Lady Captain. I now am starting to wonder, what next for me? But what I know is that when called upon to serve, I will probably not say No!" said Ndei as she delivered her farewell speech.
On his win, Shah attributed it to consistent tee-shots and a solid short game which included superb chipping.
Shah delivered a memorable 20-yard flip-shot with a backspin that flipped back into target on the par-four 10th hole.
On the par-four 18th hole green, his approach shot landed 14 feet from the pin.
You could feel the silence from the gallery. The ball went just past the pin.
Shah thought he'd blown it as he finished with a bogey for an additional 23 stableford points, which was one point better than overall Lady winner Elizabeth Ng'ethe (35) with 40 stableford points.