Wakhu delivers in pure style and when it matters most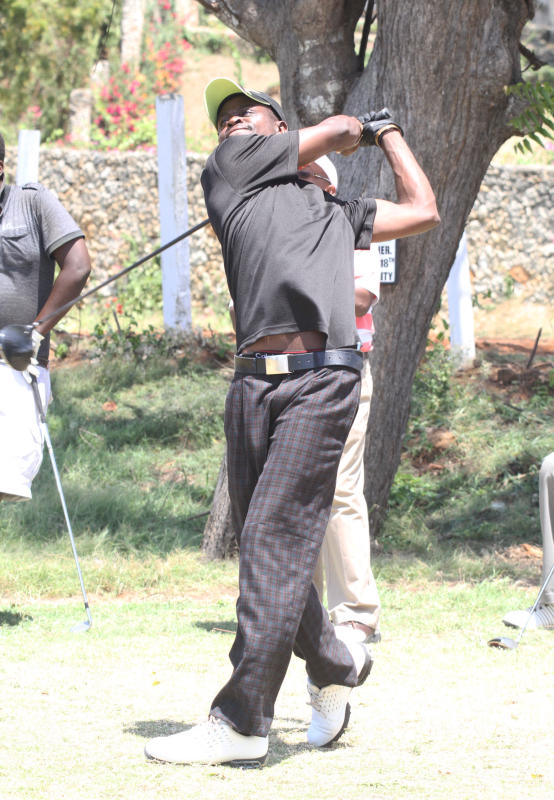 Golf Park's professional golfer David Wakhu came to Mombasa uncertain of what was in store.
At no time did he think that he would be returning home smiling with a cool Sh135,000 in his pocket.
This is after the golfer emerged the overall winner of the 2018 Prime Bank's Diani Beach Masters Golf Championships that ended at the par 72 Leisure Golf course, in Mombasa, on Sunday.
Wakhu used his skills to overcome plenty of water and sand obstacles by carding a total of 220 gross to win the professional category and claim the highest prize money out of the Sh1 million prize kitty donated by Prime Bank.
The golfer started off on Saturday by hitting a two over par 74 gross, then a got a three over 75 gross before playing his best score of a one under par 71 gross on Sunday to lead the board in the two-day tournament that attracted 40 professionals from Kenya and the East African Region.
"For quite a long time, I have always wanted to win this tournament and finally it has happened. The course was challenging but I used my putting well," said Wakhu.
Windsor's Rizwan Charania was second on a 222 gross (74, 75, 73) to claim Sh90,000, while Nyali's Ngugi Njuguna, on 224 gross (75,76,73), was third. He took home Sh69, 750.
He had the same score as Muthaiga's Frank Matilo, who also received the same amount.
The annual Championships that featured both professionals and amateurs, was sponsored by Prime Bank and supported by the Standard Group Limited.
Others among the top 10 players who took part in the championships were Naivasha's Justus Madoya, who had a score of 225 gross (71,75,79), Leisure's Kayyam Mandhu with 226 gross (82,71,73) and Muthaiga's Jeff Kubwa on 227 gross (78,75,74), who tied with Muthaiga's Greg Snow.
The 2018 Uganda Open champion Dismas Indiza from Mumias failed settle in good time as he finished ninth with 228 gross (81,72,75), tied on the same score as Railway's Alfred Nandwa.
In the amateur category, which counts towards the Kenya Golf Union's amateur Golf Championships points, saw home golfer and club captain Gary Ensor beat a team of 90 top amateurs from East Africa to emerge the overall winner.
Ensor recovered from a false start on Saturday with a horrendous 30 points, but improved with an additional best score of 40 points on Sunday for a leading total of 70 points.
The victory gave him the prestige to claim the "Green Jacket" that was won by his club mate Allan Habala, who won in last year's edition.
"I've been practicing so hard and got enough time to prepare for the tournament but most important is that "the Green jacket" is now remaining home," said Ensor.
Club mate Clement Kiragu had to share the runner-up slot with club mate Stan Kinsch and Robinson Owiti from Vet Lab after returning a two-way countback score of 67 points.
Prime Bank's Business Manager Jesse Mwangi thanked the golfers and club for hosting a successful tournament and promised to support next year's championships.