Duo claims Drive for Show honors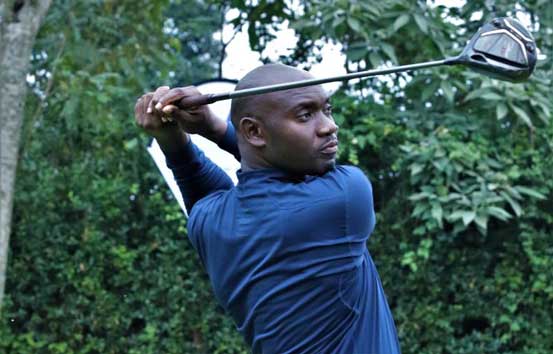 Adrenaline side of golf was on display as the Kenya Long drive team held their maiden Drive for show fundraiser tournament at the picturesque Vet Lab sports club last Friday.
Organized by Total golf solution, the event saw long hitters led by Kenya Airforce resident pro Kevin Mabele aka (Bigfoot) providing players with tips on how to achieve maximum distance during the hitting session held on hole 18. Of course, the player's ball had to stay on the fairway for it to count.
Edwin Kiarie of Thika sports club maxed out at 362 yards!!!, two feet shy off the red flag on the par four which plays 366 yards, followed by James Kamenchu (Railways), Kevin Mabele (Air force), Anthony Wachira (Muthaiga).
This year Kenya intends to take two teams comprised of five players each.
The front runners are; skipper Pro Jacob Okello (Golf Park), Edwin Kiarie (TSC), Anthony Wachira (Muthaiga), James Kamenchu (Railways), David Biegon (Kericho), with the only lady in the team being Joyce Wanjiru (Kiambu).
This years event was presented by; Savannah cement, Simba corporation, DTB, Kingsway tyres, Multi choice, Chloride Exide and Basco products among others.
The first qualifier for Team Kenya will be held at the Kenya Railways golf club on July 8, 2018 with plans to move the event to Kisumu, Mombasa, Nakuru and Eldoret at an advanced stage.
At last years long drive championship, Kenya finished fourth overall.
The fundraiser tournament raised funds through sponsorships, tournament entry fees auction of artifacts as well as sale of various items.
"A big thank you to all who graced today's event which was a great success as we look forward to raising funds that will enable us take a formidable team to Mexico for this years championship in Mexico," said Paresh Jai, the Ceo of Total golf solutions, the event organizers
During the tournament played under greensome format, the duo of Daire O'reilly and Jack Mwangi playing on a combined average handicap of 12 were the overall winners with 38 stableford points.
Simon Mbugua and Thomas Githumbi playing off a combined average handicap of 19 were second overall winners with 38 stableford points.
As Rachel Ndei and rookie Edwin Mudanyi playing off a combined average handicap of 10 came in third with 37 stableford points while Zack Koech and Mike Kisia were easy with fourth place after returning a score of 36 stableford points.
As Mihir Shah and Peter Mambo playing of a combined average handicap of 24 settled for fifth place with 36 stableford points.
Rakesh Lakani bagged Nearest to the pin prize (men) as Rachel Ndei went for a hatrick as she won Nearest to the pin (ladies) as well as the longest drive prize (ladies). Vir Panesar won Longest drive (men) prize.
Team Kenya Long drive standings;
1. Edwin Kiarie 404 yards
2. James Kamenchu 378 yards
3. Jacob Okello 374 yards
4. Anthony Wachira 368 yards
5. Kevin Mabele 354 yards
Ikana wins One Redhill golf honors
Resident golfer Fred Ikana claimed the One Redhill & friends gof day sponsored by Redhill residents at Limuru golf and country club over the weekend.