Golf: Timely boost for Rose Naliaka Foundation Academy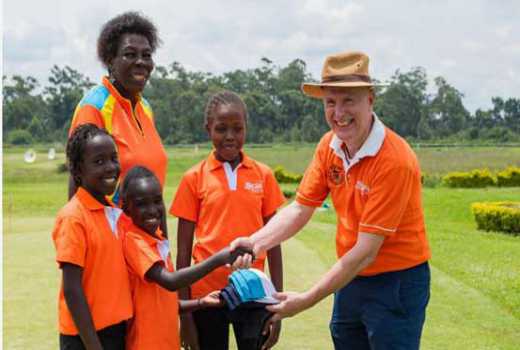 The Rose Naliaka Foundation Academy has received a big boost following a sponsorship deal with SGA Security Limited.
SGA Security Group Limited will cater for transport, playing fees for tournaments, meals and legal services for the young golfers for the next three years.
According to SGA Security Group CEO and chairman Julius Delahaije, the company is also in talks with a Holland-based golf store, Golf Plaza, to support the Foundation with golf equipment.
"We have already secured the first batch of equipment as donations from Golf Plaza to Rose Naliaka Foundation Academy," said Delahaije after presenting the equipment at Golf Park.
"Golf Plaza have assured us that they will continue to do so, so that these children going through the golf training can continue to benefit."
Founded by Rose Naliaka, the only female professional golfer in the country, the academy is a golfing oasis for under-privileged girls in the country. It helps instill core values and key life skills into the lives of the girls.
Since it was founded in 2007, the academy has produced more that 20 girls with official single-digit handicaps. In fact, five of the top 10 female golfers in Kenya today are from the academy.
Some of the notable names that have come from the academy are former top female golfer Naomi Wafula, Mercy Nyanchama, Mary Monari and Agnes Nyakio.
Others are 2018 Sigona Ladies Open winner Serah Khanyereri and Ashley Awuor, who are part of the team that will represent Kenya in the 2018 Open Junior Championships in Scotland in July.
"It is not easy to run this programme and when someone comes on board the way SGA Security have, we are very grateful," said Naliaka, a former Africa ladies champion.
"It's huge burden lifted off our shoulders, and that gives us an opportunity to concentrate fully in the sports," she said. Beneficiaries at the academy also have their education sponsored. [Dennis Okeyo]