President Kenyatta urges ministries to introduce golf in public schools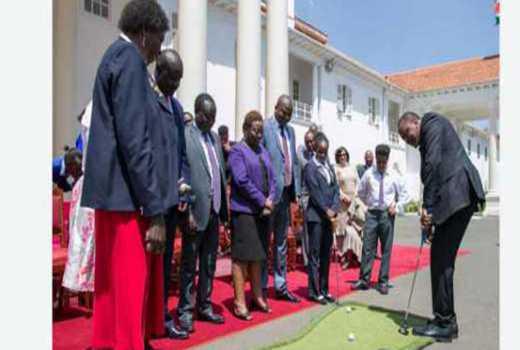 Kenyan public schools may be poised to integrate golf as part of the competitive games played as extra-curricular activities, if a recent statement by President Uhuru Kenyatta is to go by.
While flagging off the Junior Golf Foundation team at the State House in Nairobi ahead of All Africa Junior Golf Challenge, Kenyatta told the ministries of Sports Education and Interior to speed the development of a curriculum that will facilitate the integration of golf in the public schools.
The junior team traveled to Morocco to represent Kenya in the regional tournament. While addressing the young players, he told them to put all their efforts in the upcoming games.
"As you go abroad with my blessings and my best wishes, express yourselves. Let your talent shine," the President told the Junior Golf Foundation team," he said.
Currently, public schools have numerous sorts of games but playing golf has been a challenge. This is a situation that could be attributed to infrastructural gaps that are not supportive to such sport.
However, the timeline within which the sport will be introduced is yet to be known, given that proper coordination amongst the stakeholder-ministries will be required.